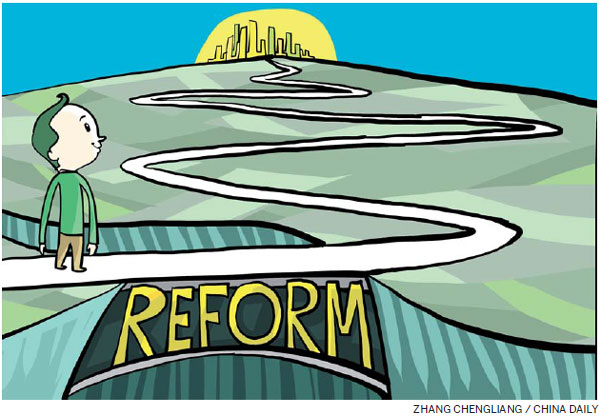 China National Building Material (CNBM) Group and China National Materials (Sinoma) Group are soon to roll out a reorganization plan, the two firms announced on Monday, heralding a new round of State-owned enterprises (SOE) reforms this year.
The reorganization proposal is currently under discussion and awaits regulatory approvals, said eight of the SOEs' mainland-listed subsidiaries in a filing to the stock exchange.
Except the trading suspension of Sinoma Science & Technology Co, the other seven subsidiaries rose on Tuesday morning. Sinoma Energy Conservation surged by the daily limit of 10 percent. Five rallied more than 7 percent on Monday before the announcement.
The move came as the country launched broad-stroke guidelines on SOE reform last year and unveiled restructuring plans for several conglomerates.
The CNBM Group has been chosen along with the State Development & Investment Corporation (SDIC), China National Cereals, Oils and Food stuffs Corp (COOFCO), China Energy Conservation and Environmental Protection Group (CECEP) and China National Pharmaceutical Group (Sinopharm) to pilot reforms in ownership, management and supervision, according to the State-owned Assets Supervision and Administration Commission (SASAC).
The CNBM Group, a Fortune Global 500, operates businesses expanse from cement, glass and new material production to engineering and logistics and has a total asset of over 410 billion yuan ($62.3 billion).