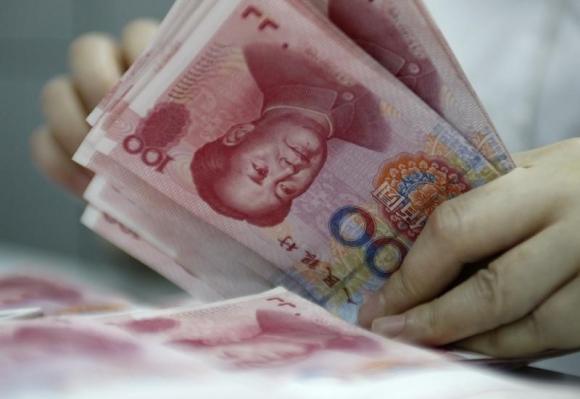 An employee counts yuan banknotes at a bank in Huaibei, Anhui province June 22, 2010. [Photo/Agencies]
BEIJING - China's central bank on Tuesday pumped the most funds in a single day since February 2013 into the financial system in open market operations to ease a liquidity strain before the Chinese New Year holiday.
The People's Bank of China (PBOC) conducted 360 billion yuan ($55 billion) of 28-day reverse repurchase agreements (repo) and 80 billion yuan of seven-day reverse repo, a process in which central banks purchase securities from banks with agreements to resell them in the future.
The 28-day reverse repo was priced to yield 2.6 percent while that of the seven-day reverse repo was 2.25 percent, according to a PBOC statement.
Maturing reverse repos will drain a net 190 billion yuan from the financial system this week.
Liquidity conditions often tighten before the New Year holiday week, which begins on Lunar New Year's eve on Feb 7, and the central bank usually injects large amounts of cash into the money market to keep interest rates steady.
Last week, the PBOC vowed to ensure that liquidity in the banking system is "reasonable and adequate" around the Lunar New Year and said it would inject at least 600 billion yuan to provide liquidity through tools such as standing lending facility (SLF), medium-term lending facility (MLF) and pledged supplementary lending (PSL).
Ma Jun, chief economist of the PBOC's research bureau, said that the offering of more than 600 billion yuan of liquidity could be seen as a substitute for a reserve requirement ratio cut.
In Tuesday's interbank market, the benchmark overnight Shanghai Interbank Offered Rate (Shibor), which measures the cost at which Chinese banks lend to one other, dipped by 1.2 basis points to 1.997 percent, a four-month high.