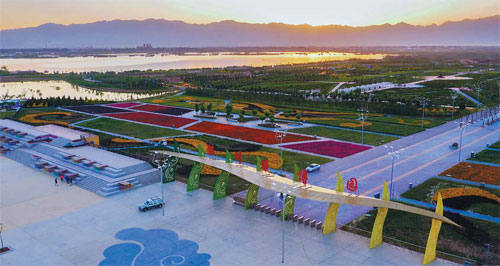 A view of the Yinchuan Re-Greening Park, where the re-greening expo, part of the China-Arab States Expo, will be held. Provided to China Daily
Series of measures set to boost city's strength, foreign exchanges
Ningxia Hui autonomous region vowed to build itself into an important window for China's opening-up, especially to Arab states and the Muslim world, to help build the Silk Road Economic Belt and 21st Century Maritime Silk Road.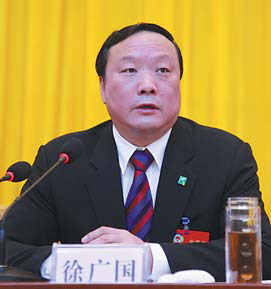 Xu Guangguo, Party chief of Yinchuan
President Xi Jinping proposed the Belt and Road Initiative in 2013 with the purpose of rejuvenating the two ancient trade routes.
Implementation of the initiative requires Ningxia to play on its advantages and accelerate the establishment of an inland, foreign-oriented economic trial zone. It is expected to act as a trade and logistics hub and base for pillar industries and cultural communication toward central, southern and western Asian countries.
Amid this historical opportunity, the local government is focusing on four aspects of development in the autonomous region and one of them is its openness. The regional capital, Yinchuan, is taking a lead in further opening-up, said Xu Guangguo, Party chief of the city.
Yinchuan boasts geological and economic importance in the autonomous region. It is an important part of the ancient Silk Road, the permanent host of the China-Arab States Expo and the core area of Ningxia inland foreign-oriented economic trial zone. Therefore, implementation of the Belt and Road Initiative is of great significance to the development of Yinchuan, said Xu, who is also a member of the Standing Committee of the CPC Ningxia Hui autonomous region committee.
"One of our working priorities is to develop finance, headquarter economies and the conference and exhibition industry in the Yuehaiwan Central Business District by taking advantage of being home to the China-Arab States Expo to increase the city's internationalization," Xu said.
Transportation improvement is another focus for the city.
"We actively communicated with coastal and inland areas to link with the ports in Shenzhen, Zhengzhou and Erenhot, and to cooperate with ports in Qingdao and Tianjin," Xu said.
Flights from Yinchuan to Dubai, Bangkok, Seoul, Taipei and Kazakhstan have begun operations in recent years. Flights via Yinchuan from Central and west China to Arab states are, on average, about five hours shorter than going via other cities like Beijing, Shanghai and Guangzhou.