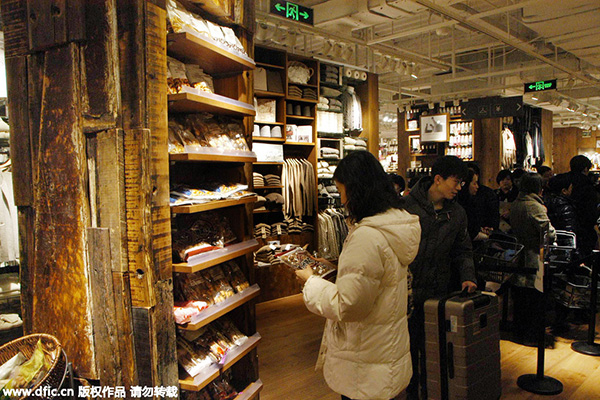 Customers shop at a store in Shanghai, Dec 16, 2015. [Photo/IC]
BEIJING - The success of transitioning China's economy away from investment and more to consumption will be spearheaded by China's 1980s generation, according to a recent report.
China's post-80s consumers will be a critical driving force for consumption in the next five years, reshaping consumption in the world's second largest economy along with the country's swelling ranks of upper middle class and booming e-commerce, a report by Boston Consulting Group (BCG) and AliResearch jointly released on Monday said.
Unlike the previous generation born between the 50s and 70s, who grew up in a tough economic environment, those born after 1980 are much more active shoppers and demand quality products and services as they pursue diverse lifestyles.
"China's new generation of consumers are demonstrating a strong consumption demand unmatched in both advanced and emerging markets around the world," said Kuo Youchi, a BCG principal, "they have significantly better education levels and are more knowledgeable about brands than the previous generation."
This new generation of consumers, who will make up 46 percent of the population aged between 15 - 70 in the next five years, will help services gain a greater share in total consumption.
Consumption has remained one of the few bright spots in China's slowing economy this year. While overcapacity and property downturn have led to sustained weakness in manufacturing, services have benefitted from stable income growth, making its relative share in the total economic output exceed half of China's total economic output for the first time during the first three quarters this year, data from the National Bureau of Statistics show.
According to BCG, service spending will grow 11 percent annually and account for 51 percent of consumption in the next five years, compared with a 8 percent annual growth rate for consumption of goods.
Accordingly, demand for fitness, travel, entertainment and other services will grow.
The service sector boom in the coming years will also be driven by China's swelling ranks of upper middle class and wealthy families, defined in the report with a monthly disposable income over 12,500 yuan ($1,928). This group has seen their share in China expanding from 7 to 17 percent in the past five years and will continue to grow to 30 percent, or 100 million households, by 2020.
When a family moves onto a higher income class, their consumption will shift more to services and discretionary spending, with service spending doubling every time a middle class family makes it to a higher income level, the report found.
One of the implications for a market dominated by a new generation of consumers and upper middle class, the report says, is that domestic brands now have the opportunity to expand their share.
Foreign brands are already ceding their market share to domestic players in areas such as cosmetics, clothing and consumer electronics as China's younger generation are more accepting of home-grown brands. More domestic brands are countering a weakness in product quality and winning consumers by better understanding their needs.