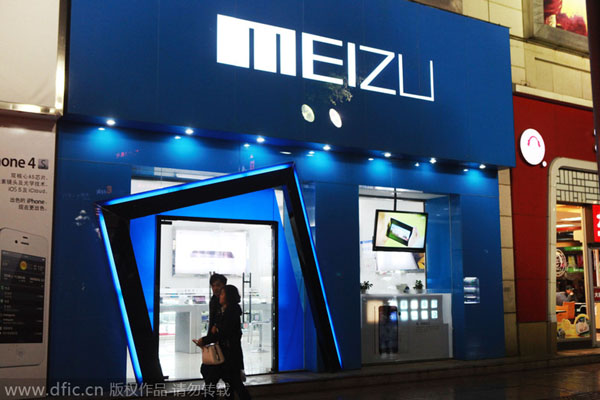 Pedestrians walk past a store of Meizu smartphones in Nanchang city, East China's Jiangxi province, November 29, 2012. [Photo/IC]
Chinese smartphone maker Meizu Telecom Equipment Co Ltd said it is aiming to sell 25 million handsets next year, a 25-percent jump compared with its shipments in 2015.
"We will look for a steady growth in 2016 after years of quick sales surge," said Li Nan, vice-president of the Guangdong-based company. "In 2016 we will try to improve user experience by expanding the service network."
The announcement came after Meizu, which the e-commerce giant Alibaba Group Holding Ltd is the major shareholder of, reported a threefold year-on-year increase of smartphone shipments for 2015 amid weakening demand in China. However, the shipment lags behind market leaders such as Huawei Technologies and Xiaomi Corp, who used to have a sales target of 100 million unit for 2015.
"Given the fact that the overall market growth will go flat in the next year, I think our goal remains pretty aggressive," Li said.
The Chinese smartphone market contracted by 4 percent year-on-year in the first quarter, the first decline in six years, research company IDC has found.
James Yan, a Beijing-based IDC analyst, said Meizu and other emerging local vendors are betting on the affordable market for shipment growth, grabbing market leaders' territory.
Except for the iPhone product line, the average mobile phone selling price was $186 in the country as of the third quarter. More than 40 percent of the devices are priced in the $100-200 range, according to IDC.
Most of Meizu's products fell into this category.
Meizu is in a dogfight with Xiaomi, the second-largest vendor in China, for young consumers who are tech-savvy but price-sensitive.
In February, Alibaba invested $500 million in Meizu, funding the expansion on retail channels and innovation.