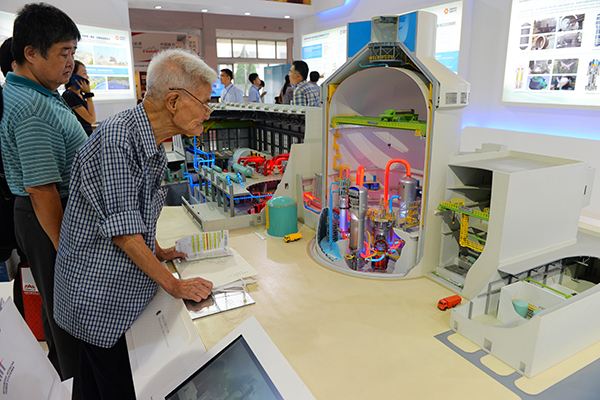 A visitor studies the model of a CAP1400 nuclear reactor at an energy-tech expo in Beijing. The Chinese CAP1400 nuclear technology has significant cost and security advantages over other such technologies. [Photo/China Daily]

Country stands good chance of bagging $80b order for four reactors, say industry officials
Industry officials are confident of China being the front-runner to win the right to build South Africa's new generation of nuclear power stations.
"We think we are likely to win the bid, after preparing all the documents for the tender," Zheng Mingguang, head of the Shanghai Nuclear Engineering Research and Design Institute, a high-tech arm of the State Nuclear Power Technology Corp.
"The nuclear energy industry also involves other issues, so we can't set any date yet on the final bidding process," he said.
The country hopes to land the contract using its CAP1400 nuclear technology, which is designed by SNERDI and based on the AP1000 reactor technology developed by the United States-based Westinghouse Electric Co LLC.
South Africa currently operates the continent's only nuclear power plant, near Cape Town, but the country is currently facing chronic electricity shortages.
The Pretoria government invited tenders in July for an estimated $80 billion contract to build four nuclear reactors-the largest contract in the country's history-which attracted widespread interest, including from State Nuclear Power Technology Corp, Russia's state atomic agency Rosatom and French nuclear firms.
The Chinese CAP1400 nuclear technology is claimed to have significant cost, reliability and security advantages over rival reactors.
It is also considered a national research project, which expects to incorporate imported advanced nuclear power technology as well as the latest homegrown advances.
Wang Binghua, chairman of State Power Investment Corp, has been quoted as saying that South Africa has already shown strong interest in the patented design.
A pilot power station project involving the CAP1400 technology is likely to start construction in March in Shidaowan, Shandong province, but officials have emphasized that the really lucrative markets for the technology lie overseas.
Zheng said the Shidaowan project is expected to be given final approval for construction from the State Council by the end of this year.
"It is too cold now to pour the first concrete, which generally takes four to six days to complete, so even if we could get the permit this year, we would still have to wait until the weather gets warmer," he said.
The pilot project is expected to complete by the end of 2020, after a 56-month construction period.