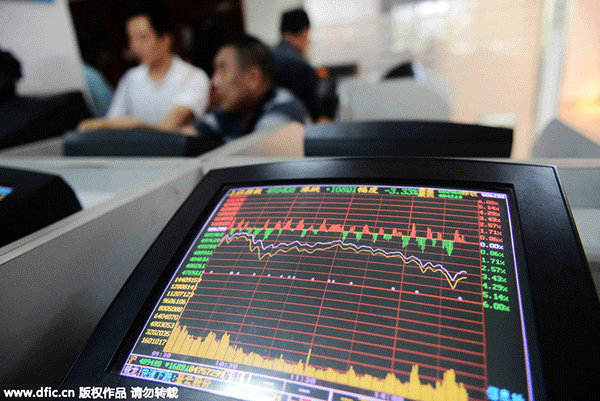 Investors at a securities brokerage in Qingdao city, Shandong province, Jun 16, 2015. [Photo/IC]
A court affiliated with the Supreme People's Court increased on Friday the sentence of a former fund manager who was convicted of insider trading last year.
The First Circuit Court in Shenzhen, Guangdong province, sentenced Ma Le, 33, former fund manager at Bosera Funds, to three years in prison, removing the possibility of an alternative five-year probation from the original sentence.
In addition, the court increased the initial 18.84 million yuan ($2.92 million) fine levied against him to 19.13 million yuan. Ma's illegal profits of more than 19 million yuan will be confiscated, under the verdict.
In March 2014, Ma was first sentenced for insider trading by the Shenzhen Intermediate People's Court, but Shenzhen prosecutors questioned the application of laws and what they considered inadequate sentencing.
Seven months later, the Guangdong Provincial High People's Court reaffirmed the original verdict, prompting the provincial prosecutor to petition against the ruling again.
China's top prosecutor lodged a protest against the verdict in December, and the Supreme People's Court accepted and reopened the case in July. As a fund manager, Ma traded shares in 76 companies, and he gathered 1.05 billion yuan in illicit profits from insider trading, the top court said. Insider trading is the buying and selling of securities by someone who has confidential information.
His case is considered as the largest insider trader case, regarding the number of stocks and value of funds and profits, since Feb 2009, when the insider trading was defined as a crime. "Ma could have been sentenced to up to 10 years in prison for his crime, but the court was lenient because he voluntarily surrendered and handed over all of the illicit profits to the country," the top court said in the latest ruling.
Liu Junhai, a civil and commercial law professor at Renmin University of China, gave the new ruling a thumbs-up, saying the new verdict is fair and has complied with judicial thinking regarding the stock market.
"Some people have brought disorder to the stock market by taking advantage of their positions for illegal gain, damaging trust in the securities environment," Liu said. "It is good to see the top court enforced the rule of law regarding the market and the penalties were stricter."
He spoke highly of the prosecutors' role in the case, adding that the protest is the best way for a prosecuting authority to implement its judicial supervision.
Dong Dengxin, a securities researcher at Wuhan University of Science and Technology, said that the case showed Chinese investors have increased awareness to protect their interests in stock market and Ma's sentencing signals that China will maintain stricter supervision of the market.