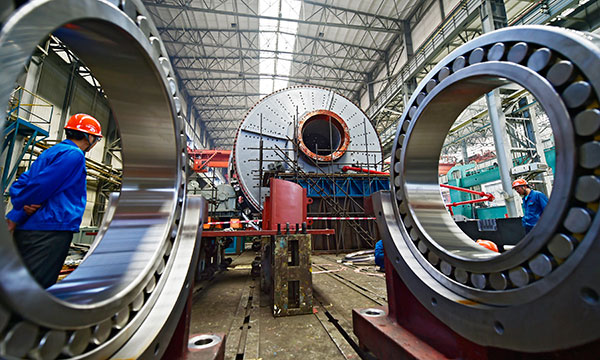 Grinding machines at an assembly line of CITIC Heavy Industries Co Ltd in Luoyang, Henan province.[Huang Zhengwei/China Daily]
PHNOM PENH - China's leading cement equipment manufacturer and service provider CITIC Heavy Industries Company on Saturday secured an engineering, procurement and construction (EPC) contract from a Cambodian conglomerate to build a $262 million cement plant in Cambodia.
The EPC contract was inked between Yu Zhangfa, chief executive officer of CITIC Heavy Industries Company, and Leang Meng, chief executive of Chip Mong Group.
Under the contract, CITIC will carry out the detailed engineering design of the project, procure all the equipment and materials necessary, and then construct a cement plant for Chip Mong Insee Cement Corporation, a subsidiary of the Chip Mong Group.
It will be "Cambodia's largest single cement line with the most modern and state-of-the-art equipment and technologies from Germany and China," said Aidan Lynam, chief executive officer of Chip Mong Insee Cement Corporation.
"It will be a world-class cement plant which produces top quality products for our company, with emission controls which protect the neighbouring environment with the lowest carbon footprint," he said.
He added that the plant, planned to be built in southwestern Kampot province, is estimated to cost $262 million, which is a joint venture with Siam City Cement Public Company Limited of Thailand.
Yu Zhangfa said the plant will be capable to produce 5,000 tons of cement per day.
"CITIC Heavy Industries will follow strictly the standard, technical specifications and requests stipulated in the contract in order to provide the high quality service to this project," he said.
"We are in strict compliance with the owner's requests with regards to project construction standard, equipment arrangement, environmental protection and other aspects," he said.
"We devote our efforts to building this project as a new mark of CITIC Heavy Industries' EPC project in the country along 'the Belt and Road' area."
Speaking while witnessing the signing ceremony, Mines and Energy Minister Suy Sem said the contract between the two companies had clearly showed the confidence of investors in Cambodia's political stability and business opportunities.
"Cement demand in Cambodia is very high due to the rapid progress of construction industry," he said. "Thus, I believe that this cement plant will be able to meet the demand of cement in Cambodia."
It is estimated that cement demand in this Southeast Asian country is about 4 million tons per year.