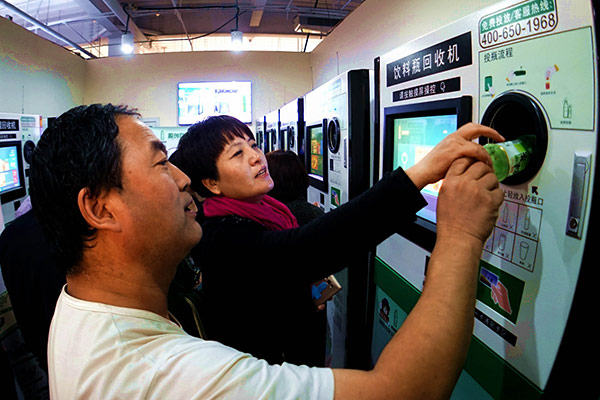 Reverse vending machines at a supermarket in Beijing. They are used to help recycle beverage containers.[Photo/Xinhua]
Operations will focus on discarded plastic beverage bottles
Beijing Incom Resources Recovery Co Ltd, the reverse vending machine operator, is setting up two new joint ventures with Norway's Tomra Sorting Solutions-a provider of sensor-based sorting equipment for recycling, food, mining and specialty products.
Reverse vending machines are used by retailers, large-scale distributors and the beverage industry to recycle glass, plastic and aluminum beverage containers.
Officials at Incom Resources said the ventures come as the demand for systems to recycle such waste has become stronger in China and across Asia.
Yang Guangze, who heads the company, said the new ventures would provide a significant boost to China's energy-saving efforts.
They will focus on turning recycled plastic bottles back into bottles, and not into a multitude of other items, which is what happens to a lot of the waste plastic generated in China.
He said the collaboration with Tomra will in future help create what he called a circular economic industrial chain, covering waste recycling of all kinds of other product too.
Chang Tao, a director with Incom, said the firm has so far introduced 2,200 recycling machines across Beijing, and that's expected to hit 3,000 by the end of the year.
The company estimates it has recycled some 18 million discarded empty beverage bottles, collected from shopping malls, government organizations, subway stations, schools and scenic spots, and now has some 400,000 active contributers to its collection services.
Its sensor-based plastics recycling machines are ingenious devices.
When a discarded bottle is dropped into the collection unit, an imaging camera identifies its size and sorts it into specific bins.
The machines send a message to the company's main depot in the Shunyi district of the city when the machine is full, and the unit is immediately emptied.
The users of the machines are duly paid for the collected waste material with a simple scan of a card at the machine, explained Chang.
In addition to the collection units, Incom also collects waste direct from companies, a service ordered simply by way of an application software called Bangdaojia.
Chang said the government's planned "Internet Plus" initiative, which promotes the e-commerce sector, will bring a huge boost to the country's huge recycling industry, which is still dominated by thousands of small-scale recycling workshops.
Mao Da, an expert in solid-waste management at Beijing Normal University, said many of those smaller outfits focus on turning empty bottles, largely made of polyethylene terephthalate-commonly abbreviated to PET and one of the most valuable of the 40 plastics-into clothes or non-food containers like basins.
This is a profitable activity, but long-term, recycled materials such as clothes made from bottles can take decades to degrade, said Mao.
He said many Western governments now encourage people to separate waste PET bottles from other plastic waste, so it can be collected and remade into bottles-just what the two joint ventures will be trying to push in China and across Asia, said Mao.
The ventures' plan to recycle waste plastic bottles into new ones will greatly cut down on the total numbers being used, he said, and he welcomed the plan to open a service dedicated to the process.