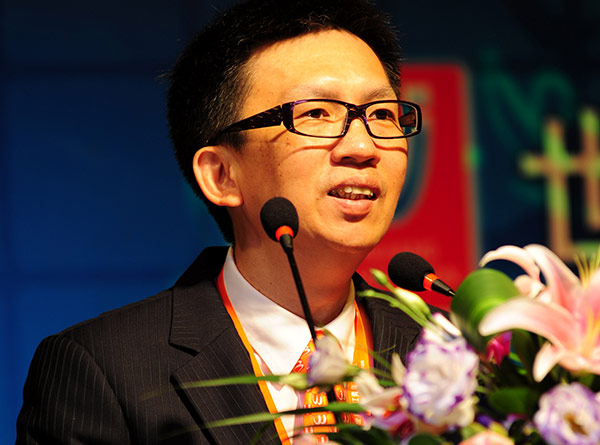 Hung Yau-lit, chairman of Regina Miracle International Holdings Ltd.
Hung Yau-lit, chairman of the world's biggest bramaker, can thank Victoria's Secret for his newly minted fortune.
Hung's fortune rose to $1.1 billion as lingerie supplier Regina Miracle International Holdings Ltd has soared since its October initial public offering, according to the Bloomberg Billionaires Index. The Shenzhen-based supplier for top brands such as Victoria's Secret and Calvin Klein Inc has surged 71 percent since its debut on the Hong Kong exchange on Oct 8, including a 12.3 percent gain on Tuesday. Hung, 53, owns 885 million shares, or 72 percent of the company.
Jackson Yu, an analyst at RHB OSK Securities Hong Kong Ltd said: "Victoria's Secret is pretty innovative in fabric and styles, and its delivery cycle is quicker than other traditional brands."
It reported a 43 percent growth in net profit for the six months ended Sept 30. Revenue rose 26 percent to HK$2.5 billion ($322 million) from a year earlier, according to regulatory filing.
As part of Regina Miracle's plan to expand, Hung hopes to open four plants in Vietnam, with the first one to begin manufacturing by the end of the first quarter next year.
"We are the leader in innovation and quality in the industry," said Hung on Monday. "After increasing the production capacity, we will enhance the speed too."
Regina Miracle generates 35 percent of its sales from Victoria's Secret parent company, L Brands Inc, according to a note by BOC International Holdings Ltd analysts Candy Huang and Jamie Shen. It also produces footwear and running shoes for brands including Armour and Reebok. Leslie Wexner, the billionaire founder of L Brands, has increased his fortune 7.7 percent this year to $8.3 billion.
Hung migrated from Fujian province to Hong Kong with his parents when he was 11. He quit school after junior secondary school and worked at factories before joining a velcro-fastener maker as a salesman. He set up the predecessor of Regina Miracle in 1985 as a manufacturer of shoulder pads.
Later, he changed his business focus to intimate-wear manufacturing and added L Brands as a client 15 years ago.
The company now manufactures 1 percent of the world's women lingerie, making it the world's largest bra maker in terms of production volume, according to a report by Frost & Sullivan in 2014.
It produced a total of 58.7 million pieces of bras and panties in the fiscal year ended March, according to the IPO prospectus.