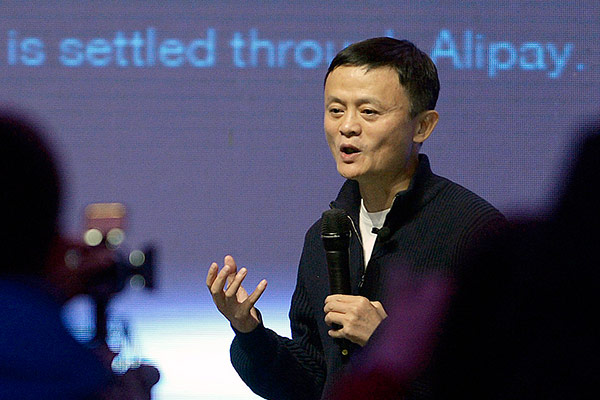 Jack Ma, chairman of Alibaba Group Holding Ltd, answers reporters' questions during the Tmall Singles Day online shopping festival.[WEI XIAOHAO/CHINA DAILY]
As an expat business journalist working in Beijing, I dream of one day interviewing Jack Ma, executive chairman of Alibaba Group Holding Ltd. He enjoys iconic status worldwide already and I wish to pick his brain on a variety of subjects.
But my boss warns me Ma does not grant interviews easily. Apparently, efforts have been made for as long as 10 years now to land an interview with the fabled entrepreneur and investor, all to no avail.
With reports suggesting Alibaba may buy into SCMP Group Ltd, publisher of the South China Morning Post, Hong Kong's preeminent English daily, my urge to interview Ma is now verging on desperation. For, the business of news is a subject close to my heart, especially the prickly issue of the future of the print medium. I say prickly because among journalists and media pundits, opinion is sharply divided on the subject.
Some argue there is no future for print in the new-age news business. I would argue that's nonsense. Hence, given an opportunity, I would like to quiz Ma, now that it appears his business empire will likely stretch to print.
Ma has not said anything on the subject yet. But actions, they say, speak louder than words. If reports are to be believed, in the context of the news business, Alibaba still sees much value in print, never mind the popularity of new media and the reach of electronic broadcasters.
If Ma confirms that print still rocks, it would reinforce the power of the printed word. Such a confirmation could come in the form of the price Alibaba would pay for a stake in SCMP.
Not very long ago, Amazon's billionaire chief Jeff Bezos threw a lifeline to the Washington Post. A few years back, Rupert Murdoch-led News Corp invested in Dow Jones, publisher of the Wall Street Journal. This year, Japan's Nikkei spent big money to buy London's Financial Times.
Such media deals involved billions of dollars. I wouldn't be surprised if Alibaba parts with a cool packet for SCMP. Since Alibaba is not saying much on the subject, and Ma, I learn, does not grant interviews easily either, I have decided to convert this column into an open letter to him.
My hope is the following questionnaire would somehow reach Ma, and he might deign to address my queries either directly or indirectly at some point in time. Here goes:
1) Mr Ma, how much are you willing to pay for SCMP?
2) What makes you think print in the news business is still an attractive investment option?
3) Why does Alibaba need SCMP now?
4) Have you considered buying any other print labels before zeroing in on SCMP? If yes, what factors swung your preference for SCMP?
5) What do you think is the future of print in the digital-age news business?
6) Will SCMP be used to promote your e-commerce business? Or, will profits from e-commerce be used to sustain unprofitable but necessary media institutions?
7) What changes will you introduce in SCMP to indicate to the rest of the world how print should be in the new-age news business?
8) What role do you envision for news media in this century?
9) The stake in SCMP will likely increase Alibaba's share of reader/viewer eyeballs across print, online, new media, broadcast. Do you want to become a media mogul?
10) Do you see the expected SCMP investment as insurance in the sense that it could help Alibaba to articulate its own views and protect its interests during controversies and trouble?
11) If shareholders endorse the SCMP deal, would Alibaba buy other reputable print labels across countries, continents and languages?
12) Where do you see Alibaba Group 25 years from now-what might it be like, in terms of operations, interests, technology, global footprint, annual sales and profits?
13) Which news media organization or label in the world do you admire the most? Why?
14) On a lighter note, don't you think diverse businesses like media, e-commerce, entertainment, online payments, ride-hailing, so on could make people see you as "Jack of all trades, Ma of everything"?
15) Would you like to add anything else?
Thank you.