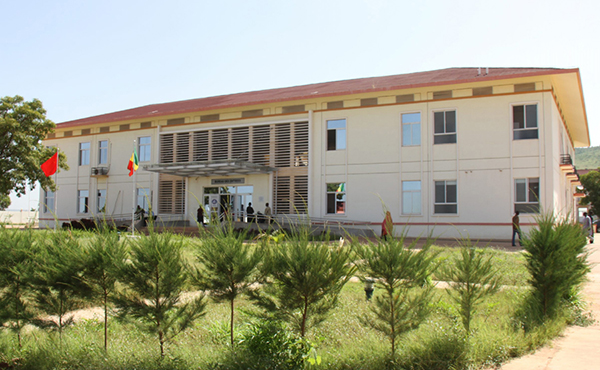 The Mali Hospital, built with Chinese aid, officially opened in September 2011, where China's medical aid team conducted the first heart operation in Mali.[Photo/Xinhua]
The Ministry of Commerce has warned companies operating overseas that they face increasing security risks, after 345 security-related incidents were reported since 2010.
Shen Danyang, the ministry spokesman, said the government would further coordinate its efforts with the private sector to tackle the problem.
He urged companies to strengthen their security prevention and response efforts, particularly in the wake of the recent terrorist activity in Europe and elsewhere.
"Overseas security risks for Chinese enterprises have intensified, as increasing number of enterprises expand across national borders to tap the global market.
"As overseas investments widen, so does the scale of the risk," Shen told a news conference on Wednesday.
Three Chinese nationals were killed last month during a deadly attack on a hotel in Mali's capital Bamako, while another three were abducted in Turkey in August in 2014.
Seven Chinese workers were also attacked in the suburbs of Lusaka, capital of Zambia in February in 2014, with one killed.
The incidents have prompted the government to strengthen the protection of Chinese citizens abroad, said Shen, underlining that related government departments and companies should work together to establish more effective mechanisms to ensure the security of citizens living and working abroad.
Mei Xinyu, a researcher at the International Trade and Economic Cooperation Institute, said the rising numbers of Chinese workers under security risk were a result of more firms going global.
According to ministry figures, China now has 30,000 companies operating abroad, with their total assets worth more than $3 trillion.
But Mei said that increased wealth and income have also stimulated greed and apathy among some, leading to rising levels of risk.
Fu Xiaoqiang, an expert in South Asian studies at the China Institutes of Contemporary International Relations, said the expansion of Chinese firms globally had also raised the security risk at home, as the country becomes more intertwined in international affairs.
Despite many Chinese enterprises setting up good safety-management systems and emergency-response mechanisms within their overseas operations-often in accordance with international standards, Fu said everyone should beef up their own precautions and responses as terrorist attacks grow in frequency.
Over the past five years, the ministry has introduced several regulations and guidelines to encourage companies to ensure the safety of their overseas employees.
Shen appealed to Chinese enterprises and institutions to fully understand the security risks involved in any move overseas, and that appropriate safety mechanisms and emergency plans should be in place well in advance.
Thorough assessment should be carried out when operating in any countries or regions that are considered high risk, he said.
Shen warned that those operating overseas should get in touch with local security departments to fully assess the possible risks, and that personnel without proper safety training should never be assigned to a foreign country.