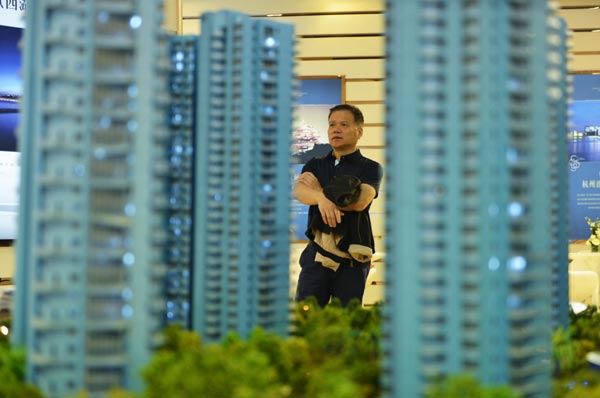 A man examines property models at a housing sales center in Hangzhou, capital of Zhejiang province. [Photo/China Daily]
Growth in China's new home prices quickened in November after a slack performance in September and October, a private survey showed on Tuesday, stoking hope that the property market might pick up momentum again.
Despite being a traditionally slow season for new homes, average home price in 100 cities rose by 0.46 percent month-on-month in November to 10,899 yuan ($1703.3) per square meter, an acceleration from the 0.3 percent and 0.28 percent gains in October and September respectively, the China Index Academy, a research unit of SouFun Holdings Ltd, said in a report.
The academy data showed new home prices strengthened from October in 41 of the 100 cities it monitored, down from 48 a month earlier. However, this was offset by the strong pickup in a few cities. Shenzhen again led the nation with a 2.54 percent month-on-month advance-this is slower than the 3.5 percent growth in October, but compared with a year ago, it is already 34.75 percent higher.
New home price in Shanghai grew 1.4 percent over October, while Beijing prices gained 0.95 percent.
"A major change is that housing sales grew in all kinds of cities, not only in first-tier cities. Inventory pressure eased across the board. That might lead to renewed price rise, though moderately, in small cities. Overall, we expect a 'warm winter' of the market," said the report.
Adding to the optimistic sentiment is the revival in housing sales after a slack September and October, which surprised the industry as it is traditionally a strong sales season for pre-owned homes. For example, pre-owned home sales in Beijing in the first 29 days of November hit 15,693 units, up 39 percent from the level of the same period in October, according to Homelink, a major pre-owned housing broker.
In Shanghai, new home sales reached 1.4 million square meters in the first 29 days of November, which is expected to be on par with sales in October and exceeding that of September.
Market mavens are not sure if the current uptick would sustain. But top officials have sent signals they might step up the current effort to prop up sales.
On Nov 10, President Xi Jinping said the government needs to "draw down the housing inventory" and "strive to achieve healthy development of the property industry".
It was for the first time since October 2013 that the top leader commented specifically on the property market, stoking hope that further policy stimulus may be on the way.
In November, Shanxi province eased rules on home buying, becoming the fourth province after Gansu, Sichuan and Anhui to undo previous curbs, in the hope of slashing more property inventory in China's lower-tier cities. The eased environment has strengthened developers' confidence, spurring them to snap up land in first-tier cities.
According to Centaline Property Agency, land sales in Beijing hit 56.1 billion yuan in November, the all-time peak for monthly transactions. This year so far, the capital has sold 192 billion yuan worth of land, exceeding the record of 191.7 billion yuan set for the entire 2014.