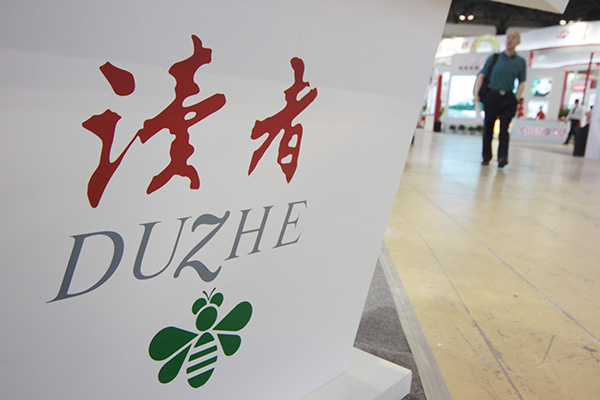 A pedestrian walks past an advertisement for The Duzhe magazine in Beijing, China, May 29, 2014. [Photo/China Daily]
Publisher of popular magazine to issue up to 60m new shares
Duzhe Publishing & Media Co Ltd, the publisher of China's most popular magazine The Duzhe (The Readers), is planning to raise 500 million yuan ($78.2 million) in a Shanghai initial public offering. Subscription will begin on Dec 1.
The company is to issue up to 60 million new shares, pushing its total shares to 240 million.
The capital being raised will be used to develop its magazine titles, digital publishing operations and book publishing projects, according to its IPO prospectus.
The plan was originally slated for July, but issuance of new shares was suspended by the China Securities Regulatory Commission due to the market rout in the summer.
"It will attract a lot of attention from the capital market, and I'm optimistic about the prospect of its stock price, as the brand value of The Duzhe is still high in the market," said Yao Haifeng, a digital-publications researcher at Internet consultancy Analysys International.
The prospectus shows Duzhe earned revenue of 550.87 million yuan during the first three quarters this year, a 9.97 percent rise compared with the same period of last year, with the majority of that increase coming from periodical and tablet computer sales.
Between January and September, the income generated by periodicals, teaching materials and textbooks accounted for 75 percent of its main business.
Earnings from periodicals increased 18.8 percent year-on-year during the period, primarily driven by an increase in the cover price of its signature magazine The Duzhe, at the beginning of year, from 4 yuan to 6 yuan. The Duzhe contributed 90 percent of periodical sales.
The company's textbooks and teaching materials arm reported a year-on-year drop of 6.46 percent, but it is still considered a stable operation, the prospectus claimed.
To tackle the challenges of digital publication and mobile reading, Duzhe has been expanding its business in sectors that are closely related to content production.
The company created Duzhe Digital in May 2010, which has already introduced a series of own-branded digital products, including e-book readers, mobile phones and tablet computers, all of which are loaded with Duzhe magazine archives from the past three decades.
Duzhe also started making inroads into film and TV in 2011. Two years later, it spent 50 million yuan on four TV series, including The Empress of China, earning a reported 20 percent return on its investment.