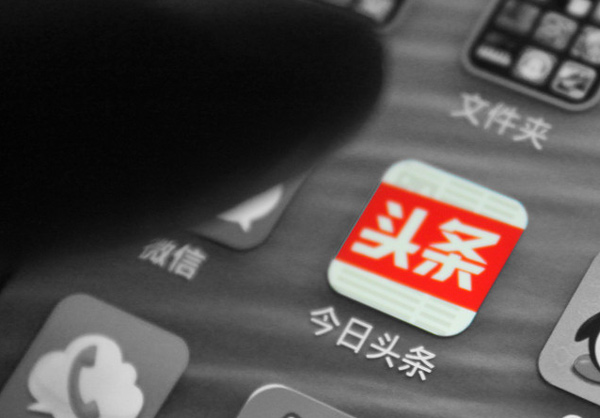 A photo taken on July 21, 2014 shows the app Jinri Toutiao. [Photo/IC]
A major report shows they are nearly as popular as instant messaging players such as WeChat, QQ
It is extremely difficult to find an empty room at the Beijing offices of Toutiao.com, a mobile news application.
With more than 800 technical staff, nearly every chair and desk is taken as employees constantly update the popular app, which features headline news, show business, sports and social media issues.
Launched in 2012, Toutiao has 290 million registered users and 27 million regular readers each day. When it started, the organization had just 20 staff but has been growing at a frantic pace since then.
"Whether they are in the subway or on trains, as long as our customers have their smartphones, they can access news and other information via our app," Lin Chufang, vice-president in charge of marketing at Toutiao, said.
Last year, the company received $100 million in another round of financing from Sequoia Capital, which is run by legendary Chinese investor Shen Nanpeng, and Weibo, the Twitter-like online platform in China that is listed in New York.
Shen also has a stake in Ctrip, the largest online travel agency in China, while Sequoia Capital is a major venture capital firm and a key investor in DJ-Innovations, or DJI, the largest commercial drone manufacturer in the world based in Shenzhen, Guangdong province.
With investors like these, it is hardly surprising that Toutiao, which means "Headline Today" in English, has taken off after an initial round of investment back in 2012. It is now valued at $500 million.
But then, a key element of Toutiao's business plan was to splash out on copyright content from 1,000 media companies in China as well as partnerships deals with thousands of freelance journalists for video clips and news items.
"With mobile phones, people can read the latest news in a more efficient way," Zhang Yiming, founder of Toutiao.com and head of the app's parent company Beijing Bytedance Technology Co Ltd, said. "It so much easier now."
While Toutiao has yet to release detailed financial figures or media contract fees, the privately owned company has increased advertising revenue and is now breaking even. But it still has no plans to branch out into providing original content as the company does not have a full time team of journalists in place.
"We will stick to being a news platform," Zhang said. "That is what we do best."
The success of Toutiao illustrates the problems that mainstream media firms, such as newspaper groups, face when trying to stabilize revenue in a changing landscape dominated by online rivals.
Last month, a report published by the China Internet Network Information Center showed that news apps were only second to instant messaging players, such as WeChat and QQ, both part of Tencent Holding Ltd, when it came to online traffic. More than 459 million people clicked onto news apps by the end of June, roughly 77 percent of the Internet users in China, according to the Beijing-based CNNIC, a government-backed industry body.