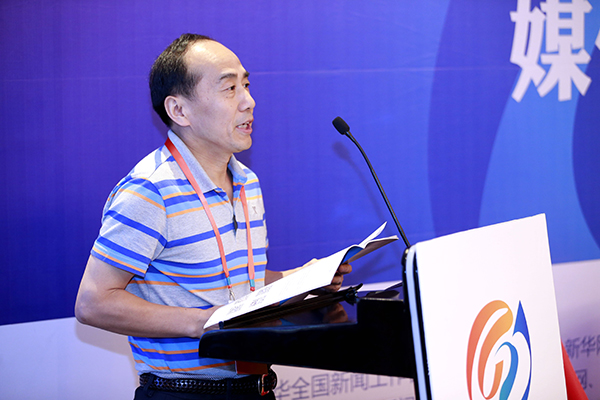 Wu Gang, deputy editor-in-chief of Cnr.cn, speaks during the 15th Forum on Internet Media of China, July 17, 2015. [Photo / chinadaily.com.cn]  
On July 17, some 300 participants including government officials, journalists from mainstream media and major commercial websites, Internet enterprises and specialists gathered in Zhanjiang, a city near the South China Sea and a starting point of the ancient Maritime Silk Road 2,000 years ago, for the 15th Forum on Internet Media of China.
Themed "E-path to One Belt, One Road" following the Belt and Road Initiative and Cyber Power Strategy proposed by President Xi Jinping, the forum closed with the Zhanjiang Declaration, calling for joint efforts by nationwide Internet media to build a "digital Silk Road", bridging the cultural and historical gaps among countries and regions along the famed Silk Road.
It was the second time in a month that China's Internet sector appealed to the world to construct a "digital Silk Road". Earlier in July, Lu Wei, director of the Cyberspace Administration of China, proposed collaboration on the Road during the first China-EU Digital Cooperation Roundtable.
According to Joseph S Nye's soft power theory, China has created a civilization of wealth and science that topped the world for 1,500 years, a miracle in world history.
It is regretted that after Zheng He, an ancient Chinese official who began maritime cruises to Southeastern Asia and Eastern Africa, and marked a milestone in the great geographical discoveries in the past 500 years, China, once a great agricultural civilization, closed its own borders and lagged behind the industrialized western world. The nation suffered a lot after the Opium War, but never caved in. It survived and rejuvenated. China learned the hard way in its own modernization drive.
China has revitalized its image throughout a series of social overhauls and reforms and has brought about a transformation from an agricultural civilization to an industrial and information civilization. It should now be an essential turning point for the world's largest population and second-largest economy to develop confidently.
In 2009, the Time magazine named Chinese workers "Person of the Year", giving credit to the country's workers who not only salvaged China but also the world amid the global financial crisis. In 2014, Mary Meeker, crowned as American Internet queen, proposed to "learn from China" in her annual Internet report. In 2013, China's population of mobile users surpassed the United States, spending considerably more time on Internet and mobile terminals than its American counterparts.
In a graph showing the proportion of each economy's share in global GDP, China used to dominate with 33 percent in 1820 but plunged to only 2 percent in the 1970s. Meanwhile, Europe took up 27 percent of global GDP in 1820, climbing to its climax of 40 percent in 1900, but fell back to 16 percent in 2010. As with the US, it only covered 2 percent in 1820 and climbed to a transient peak of 35 percent after World War II. The country's share remained 25 percent for the following six decades and finally slid to 19 percent in 2010.