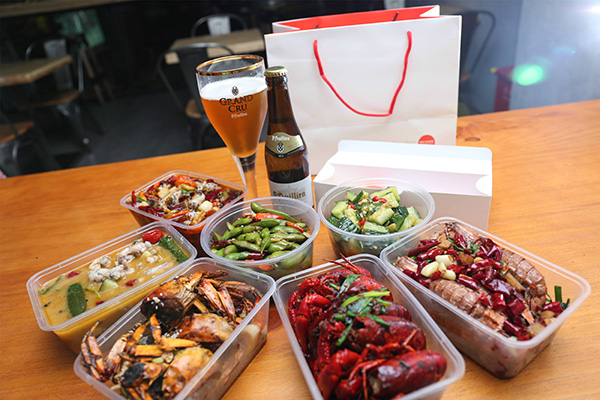 Boxes of takeaway food ordered online in Guangzhou. [Photo/China Daily]
VG also has more than 10,000 followers on WeChat, most of whom order their lunch from the website on a regular basis.
"We have improved our central kitchen in the hope of expanding our services to Zhongguancun and Wangjing areas (in the capital)," Liu said. "Even though we provide only light meals, we are quite confident about our growth prospects."
Cai Jintao is just as bullish about the future. He founded Chulaichuwang.com, another O2O service provider, in 2011 with the usual set lunch formula for officer workers in central Beijing.
But he has since moved into fresh fruit, juices, cakes and even the cosmetics sector.
"Selling set lunches was just the beginning. Before I started this company, I studied the market," Cai said.
"About 48 million people order a set lunch every day with office workers aged between 25 and 35 making up the majority of customers.
"Apart from lunches, they will need other services," he added. "By that time, we can be their (first) choice as they are quite loyal to our brand. We are now no longer a website selling lunch boxes, but rather a convenience store on the cloud."
So far, Chulaichuwang has extended its reach to Zhongguancun and Wangjing areas. The company has also opened up operations in Shenzhen and Shanghai.
This year, sales revenue will exceed 50 million yuan and top 200 million yuan by 2016, according to Cai.
"O2O is not about rolling out information platforms," he said. "The core of O2O services is addressing consumers' demands. As long as the company can meet those demands, we will grow."