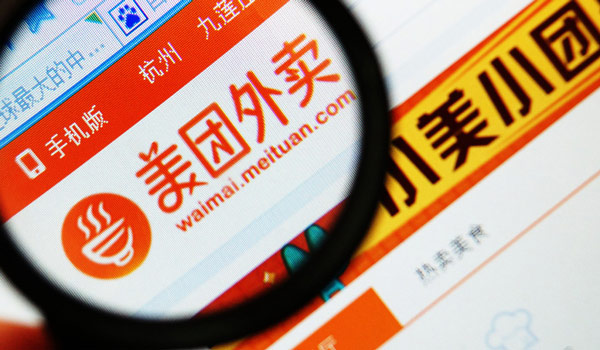 A Chinese netizen browses the website of waimai.meituan.com of online group buying site meituan.com on his computer in Tianjin, China, 28 November 2014.[Photo/IC]
BEIJING,-- With the emergence of online to offline (O2O) catering, it's never been so easy to get quality food delivered to your door.
Driven by the "Internet Plus" plan, O2O services are taking over China's market with gusto, spanning fields including catering, taxis and car washing.
Flourshiling industry
Standing beside his bicycles, Meng Fanqiang stares at his cell phone, waiting for orders.
"Normally I take around 35 orders a day, and I am just one of over 1,000 Daojia delivery men in Beijing," said Meng, who works for one of China's leading food delivery companies.
According to research by Analysys, a major Chinese think tank on the development of new media, in the first quarter of 2015 there were 176 million orders fulfilled by China's O2O catering industry. For the whole of 2014, 376 million orders were placed.
"The industry shifted to a whole new level last year," noted Wang Jing on behalf of the Daojia public relations department. "Big discounts and offers by some catering delivery companies attracted lots of customers."
Baidu and Eleme collaborated with certain restaurants to pass on sizable discounts, sometimes as much as 50 percent off the bill, to hungry customers.
A recent survey showed that students and white-collar workers were most concerned with delivery prices.
Hang Su, a post graduate student at China Foreign Affairs University, said: "Most of the time I just choose the company with the best discounts."
Imperfect O2O picture
Discounts aside, overall, the O2O catering industry is far from perfect.
Xie Wen, former president of Yahoo China, said that despite the convenience of O2O catering, it has done little to boost the economy.
"It truly is progress but it won't evolve the Internet or boost our economy," he said.
Some industry insiders are also unsure whether the long-term prospects are as bright as they seem.
"Customer loyalty is questionable under the circumstances," said Sun Hao, CEO of Daojia, who said the current surge holds a bubble.