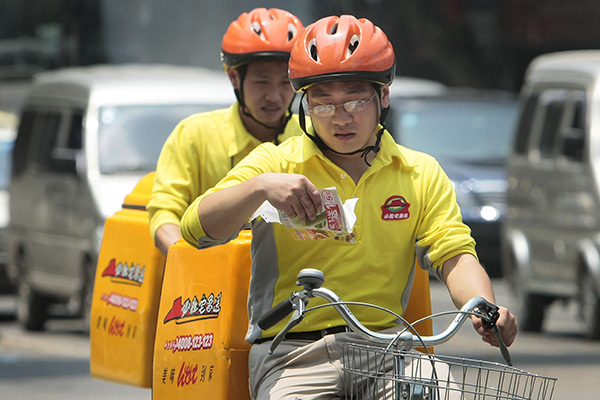 Pizza Hut's food delivery team in Nanjing, capital of Jiangsu province. [Photo/China Daily]
At that point, Xinwei Cook started making and delivering upmarket lunch boxes for professionals working in central parts of Shanghai.
The menu is a combination of Western and Chinese cuisines, while the food goes through a rapid cooling technique once it has been cooked to keep it fresh.
On delivery, customers simply pop their lunch boxes into the microwave to heat them up.
Xinwei Cook has one fulltime chef in charge of cooking, and two expatriate chefs who work as supervisors, selecting ingredients, studying recipes and liaising with suppliers from five-star-rated hotels.
Every set lunch is priced at about 30 yuan and can be delivered within 35 minutes. According to the company it can receive up to 200 orders a day, although it declined to disclose detailed financial figures.
"We have introduced the set lunch service in order to find another breakthrough in this convenient and high-frequency business," Ge Yineng, founder and CEO of Xinwei Cook, said.
"While our semi-finished food production and delivery service will continue, set lunches will be our focus in the upcoming months."
For Luo Xin, a public relations manager in Shanghai and a loyal Xinwei Cook customer, that is music to her ears.
Luo was enticed by the high quality food and the company's speedy delivery service.
"I was attracted by the packaging of the lunch boxes at the very beginning," she admitted. "They all look very simple and pure.
"The food they provide is also light, which is very much in line with the demand of office ladies."
A kaleidoscope of lunch box cuisines is also on offer in Beijing. Liu Ran quit her job at an Internet company to start her own business called VG in May. The food delivery company provides light meals for office workers.
"Lunch used to be a pain in the neck for me," she said. "The choices around the office were limited. But more importantly, the food was high in calories. It contained too much oil and seasoning.
"I believe many young women of my age feel the same as we all want to keep fit and healthy. If this is a trouble for people, then it is also a business opportunity," she added.
Before VG started, Liu tried more than 300 kinds of different lunch box meals to find the ideal blend for her customers.
Her team now includes chefs from five-star hotels and graduates majoring in nutrition from China Agricultural University.