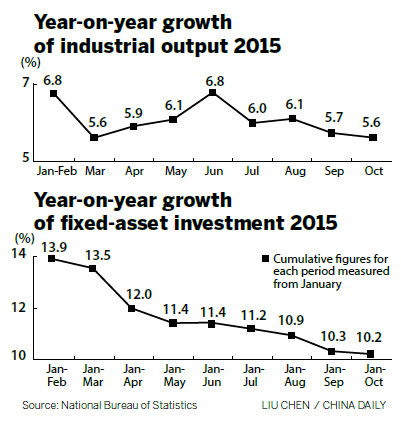 Consumption remains solid in October, lifting service investment
China's mining and top energy-consuming industries suffered a sharp slowdown in factory output and fixed-asset investment last month, further softening overall growth, according to official data.
In comparison, consumption remained solid in October, which lifted investment in services and promoted the overall economic restructuring process, according to the National Bureau of Statistics on Wednesday.
In October, the industrial output growth of the mining industry slowed to 0.4 percent year-on-year, down from 1.2 percent in September. Growth in output from six energy-consuming industries, including electricity and chemical raw material production, dropped to 5.8 percent from 6.7 percent, the NBS reported.
Industrial output growth for all 41 industries slightly declined to 5.6 percent in October, from 5.7 percent in September.
"In the restructuring process, the fast development of new industries, such as high-tech manufacturing, still cannot offset the slowdown in traditional sectors, so industrial output may face persistent downward pressure in the future," said Jiang Yuan, a senior economist at the NBS.
Fixed-asset investment showed growth of 10.2 percent in the first 10 months, down from 10.3 percent in the period from January to September, the NBS said.
Investment in high-energy-consuming industries increased just 0.8 percent year-on-year in the first 10 months, while it declined by 22.9 percent in the petroleum processing and nuclear fuel processing sectors.
Louis Kuijs, an economist at Oxford Economics, said that fixed-asset investment momentum remained relatively subdued as weakness in property construction and exports continues to depress sales and profit margins in large sections of industry.
"Despite some positive signs and policy easing already undertaken, growth is likely to soften more into 2016," he said. "We expect more incremental domestic easing measures in 2016, with a larger role for fiscal policy."
The output and investment growth for equipment manufacturing and high-tech industries were much higher than the average levels.
The country's retail sales, however, reached 2.83 trillion yuan ($444.6 billion) in October, which was 11 percent higher than the same time last year. The growth rate was accelerated from 10.9 percent in September, the statistics bureau said.
The service sector, which accounted for nearly 60 percent of the economy, will be further strengthened by the robust consumption, while maintaining a stable labor market means that wage growth will remain solid, according to experts.