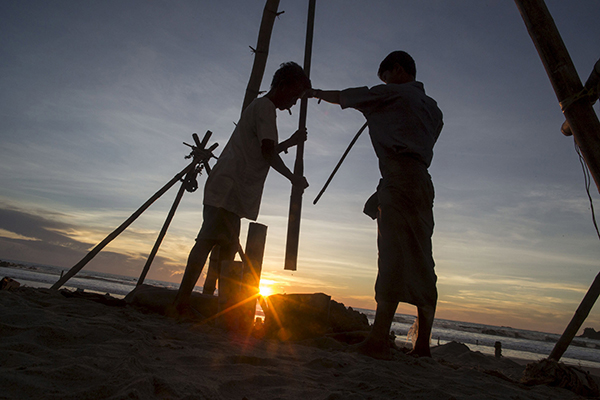 Men work at the process of extracting crude oil on the seashore in Kyaukpyu township, Rakhine state, Myanmar October 5, 2015. [Photo/Agencies]
Brent crude oil prices hit their lowest since late August on Wednesday on worries about growing US stockpiles, while the US dollar took a breather from recent gains.
US stocks ended a choppy session lower, with the drop in oil weighing on energy shares. European shares ended up 0.7 percent.
Copper prices ended higher after nearing a six-year low on mixed Chinese data, which showed growth in the world's second-biggest economy was still in low gear.
Worries that US crude inventories are building pressured oil prices.
American Petroleum Institute data showed US crude stockpiles jumped last week in a seventh week of builds. The build was also above forecasts by analysts in a Reuters poll. The US Energy Information Administration issues official inventory data on Thursday.
Brent fell $1.63 to settle at $45.81 a barrel, while US crude dropped $1.28 to settle at $42.93.
"You can talk all you want about oil demand being better next year and beyond, but right now we have a heck of a glut on our hands that I think has to be priced in some more," said John Kilduff, partner at New York energy hedge fund Again Capital.
The dollar, which had been on a charge since strong US jobs data last week boosted the probability of a Federal Reserve interest rate hike next month, slid against most major currencies as investors booked profits from the recent gains.
The US bond market was closed for Veterans Day, adding to the day's muted trading in bonds and other US markets.
The dollar index was down 0.4 percent at 98.929 after touching its highest in seven months Tuesday. The euro was up slightly against the dollar, last trading at $1.0741, after dropping below $1.07 for the first time in more than six months Tuesday morning.
China data hits metals
China's October industrial production growth cooled to 5.6 percent year-on-year, slightly lower than the 5.8 percent gain economists polled by Reuters had expected, though it was cushioned by a just-above-forecast 11 percent jump in retail sales.
China's economy is the world's biggest consumer of copper , which ended up 0.4 percent at $4,943 after hitting $4,885 a ton, its weakest since a six-year low of $4,855 in August. Zinc and lead, two other industrial metals, hit multi-year lows as well before recovering.
At the same time, the Baltic Exchange's main sea freight index, which tracks rates for ships carrying dry bulk commodities, continued to slip, falling 3.7 percent.