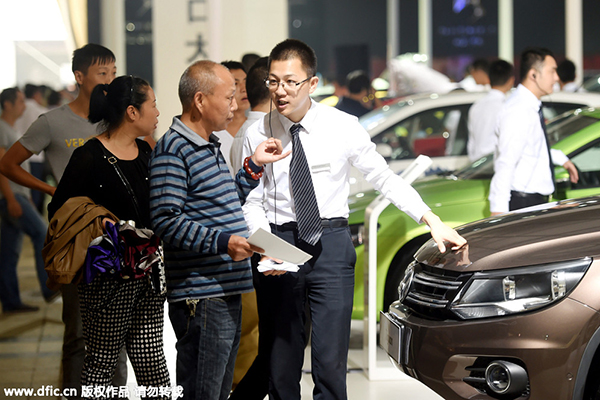 A salesman is in talks with potential buyers at an auto show in Luoyang city, Henan province, Sept 10, 2015. [Photo/IC]
Passenger vehicle sales rose at the fastest pace in 10 months after the government cut a tax on purchases in October, benefiting carmakers like Great Wall Motor Co and adding to evidence that demand is rebounding in the world's largest auto market after a summer slowdown.
Wholesale deliveries of sedans, SUVs and multipurpose vehicles climbed 13.3 percent to 1.94 million vehicles in Oct, according to the China Association of Automobile Manufacturers. Chinese carmakers outperformed the market, and boosted their share of sales by 2.1 percentage points from a year earlier.
The pickup in car demand reinforced official data released on Wednesday showing retail sales increased faster than estimated in October, and comes as Jack Ma's Alibaba Group Holding Ltd set a new record for its annual Singles' Day shopathon. The role of consumer spending is increasing in China, as wage gains create a burgeoning middle class that fuels sales of everything from movie-theater tickets to smartphones and Internet services.
"The effect from the purchase sales tax cut has been positive and should last for a few months," said Yang Jing, a Shanghai-based associate director at Fitch Ratings. "China's economy is in transition and consumption will become a bigger part of its economic growth. Helping to boost auto sales is part of the government's plan."
The effect of the stock market decline that soured consumer sentiment earlier this year should fade as the market recovers, Yang said. China's benchmark Shanghai Composite Index entered a bull market on Nov 5, after an unprecedented State rescue effort halted a $5 trillion crash and ordinary investors returned to the market.
Chinese automakers have gained this year after introducing cheaper sport utility vehicles that compete with similarly priced sedans from foreign brands. With buyers favoring the higher-riding and more spacious SUVs, global carmakers including Volkswagen AG are working on entry-level offerings to tap the expanding demand. SUV sales surged 61 percent in October to 622,000 units, while sedan deliveries were almost unchanged at 1.05 million.
Great Wall, the biggest seller of SUVs in China, boosted October sales by 14 percent. General Motors Co, Ford Motor Co and Hyundai Motor Co also reported gains in their October deliveries, reversing recent declines. The tax cut, which covers about 70 percent of autos sold in China, is effective through the end of next year.