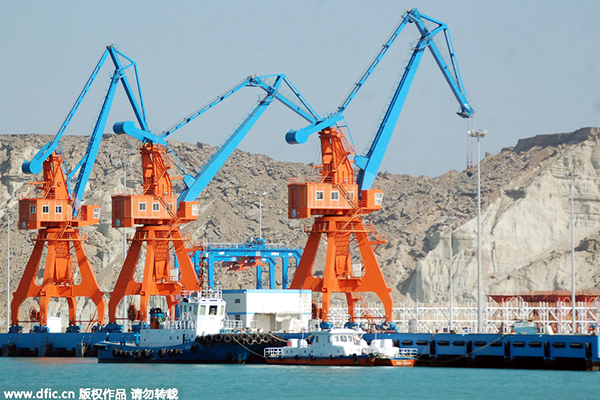 Photo shows the Pakistan's first deep sea port in Gwadar, Pakistan, April 1, 2007. [Photo/IC]

SOE gets 43-year lease for 152 hectares of land in Pakistani port
China Overseas Port Holding Co Ltd, the State-owned company which operates the Gwadar port in Pakistan, has got permission to set up a special economic zone spread over 152 hectares in the strategic deep-water seaport.
The land will be leased to the Chinese company for 43 years and the zone will have among other things a large exhibition center for showcasing Chinese and Pakistani products.
Gwadar, on the shores of the Arabian Sea in Pakistan's western province of Balochistan, has strategic importance in terms of its location between South and Central Asia and the Middle East, sitting at the mouth of the Persian Gulf and close to several important sea routes like the Straits of Hormuz, through which 20 percent of the global oil shipments pass.
As part of the agreement, the Chinese company, based in Hong Kong, will be in full charge of Gwadar Port, the third-largest port in Pakistan, the international airport and a sea area management company in Gwadar, Pakistani media said.
China is expected to invest $1.62 billion in the Gwadar project, including construction of an expressway linking the harbor and coastline, a rail link, breakwater and other nine projects expected to be completed in three to five years.
The Pakistan port will be jointly built by port infrastructure companies Zhuhai Port Holdings Group Co Ltd and China Overseas Port Holding.
The two Chinese companies will also work together on personnel training, route exploration, goods supply, logistics warehouse construction and an information platform.
Gwadar project is also the end of the China-Pakistan Economic Corridor, which runs about 3,000 kilometers from Gwadar to the northwestern Chinese city of Kashgar, a part of the ancient Silk Road linking Eurasia and Africa.
Experts said the land deal for the project will put economic cooperation between the two countries on the fast track and bolster China's new trade initiative-the Silk Road Economic Belt and the 21st Century Maritime Silk Road.
Wang Shida, an expert on Afghanistan at the Beijing-based China Institute of Contemporary International Relations, said China has already invested more than $40 billion for the development of China-Pakistan Economic Corridor and Gwadar Port will play an important role in the economic prosperity of both nations.
"I think it will provide win-win benefits for both sides. The Pakistani economy will gain from the large number of processing firms that will move to the Gwadar port. It will also boost exports from Pakistan. As for China, it will gain from cheaper oil imports from the Middle East and opportunities for Chinese companies to go global," he said.