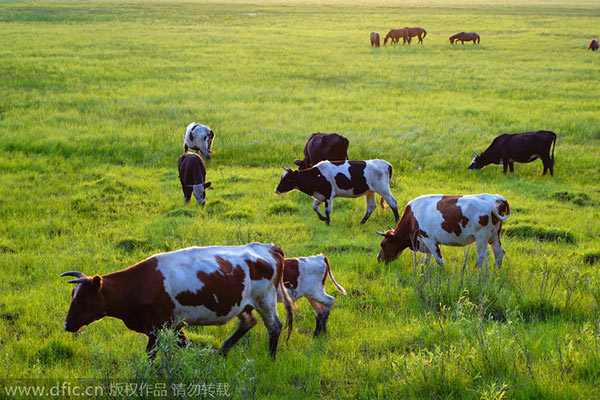 Cows in the Inner Mongolia autonomous region, China on Sept 14, 2014. [Photo/IC]
Delisi Food Co, a Shenzhen-listed food supplier, has bought a 45 percent stake in Australia's fourth-largest meat processor as beef imports into China continue to rise.
The investment in Bindaree Beef Group is estimated to be worth $105 million, according to Australian press reports.
The deal will enable the Australian company to use Delisi's extensive Chinese sales platform.
"Delisi's expertise in meat sales and processing, its premium and trusted brands, and its established distribution channels open up new avenues for Bindaree to leverage China's growing appetite for beef protein," Bindaree Chairman John McDonald said in a statement.
Delisi officials were not available for comment.
The investment will also be directed at upgrading Bindaree's meat-processing plants in eastern Australia.
Currently capable of processing 6,000 cattle per week, Bindaree unveiled earlier this year it was seeking a foreign investor to continue expanding production capacity at its processing and export operations.
The deal, still subject to approval by Australia's Foreign Investment Review Board, is the latest in a series of Chinese acquisitions in the country's beef production industry.
Australian meat exports to China are expected to continue growing, boosted by the signing of a free trade agreement in June which will eliminate import tariffs of 12-25 percent on beef products to China over the coming nine years.
The geographical proximity of Australia offers cheaper freight costs and ideal storage conditions for fresh produce compared with other beef exporting markets, already making the country China's leading supplier of the red meat.
"The free trade agreement offers the Australian beef industry the opportunity to become the premium beef supplier to China, bringing enormous benefits, not just to Bindaree but also to Australia's broader beef industry," Bindaree's Chief Financial Officer James Roger said in the company's statement.
China's beef imports are expected to grow 12 percent this year, according to a report published by research firm Business Monitor International.
"There is a lot of hype around securing higher-quality beef for consumers around the free trade agreement," said Andrew Kuiler, managing director of Shanghai-based food and beverage industry consultancy The Silk Initiative.