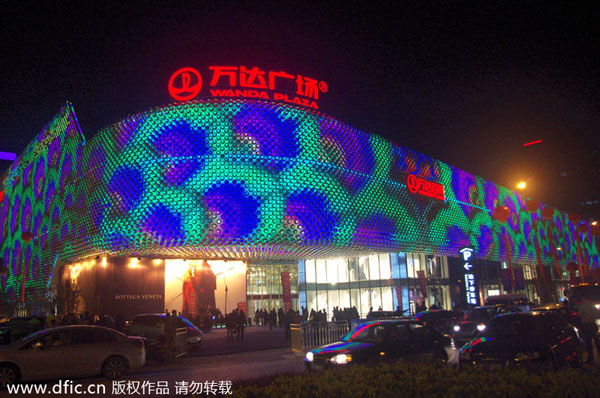 Photo taken on Sept 28, 2013 shows the night view of the Wanda Plaza in Wuhan, Hubei province. Chinese property and investment firm Dalian Wanda Group is in exclusive talks to acquire World Triathlon Corp, the United States-based owner of the popular Ironman Triathlon franchise, for more than $850 million in August 2015.[Photo/IC]
In the first three quarters of 2015, Chinese mainland's outbound Merger and Acquisition (M&A) deal volume soared to a record high of 257, exceeding 2014's year-end total.
According to a PricewaterhouseCoopers (PwC) report released Wednesday, outbound M&A reached $45.2 billion, slightly higher than the same period in 2014. There were 11 deals with values greater than $1 billion.
"Chinese outbound M&A activities have continued to grow in both deal volume and number. From a financing perspective, easy monetary policies, low interest rate and reserve ratios, and a significant surge in China's stock markets in the first half of 2015 have helped to drive deals," said Carol Wu, PwC China Transaction Services partner.
Private firms continued to be a key driver in China's outbound activity in the first three quarters, with deal volumes more than three times that of State-owned enterprises for the period, and also exceeding the volume for the entire 2014.
Developed markets such as North America and Europe continued to be the most important for Chinese buyers. The 67 deals reached in other Asian countries during the first three quarters of 2015 ranked just below the number of deals with the US and Europe, while being higher than 2014's number.