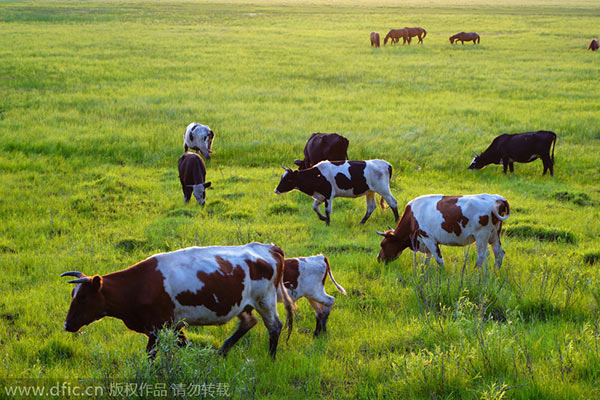 Cows in the Inner Mongolia autonomous region, China on Sept 14, 2014. [Photo/IC]
Guangzhou-based grain and edible oil producer Donlinks Grain & Oil Co Ltd has become the latest Chinese bidder to enter the race for S. Kidman & Co Ltd, one of Australia's largest landholders.
Donlinks will form a consortium with Genius Link Capital Ltd, an asset management company registered in the British Virgin Islands, to make a second-round offer for the Australian beef producer and landowner.
"The S. Kidman & Co bid will help diversify our agriculture business," the company said in a statement.
If the bid is successful, Donlinks will own 51 percent of S. Kidman. Additionally, the acquisition could create new market opportunities for Donlinks and improve its performance, the company said.
Shares of the company were suspended from trading on Thursday.
As many as seven Chinese firms are believed to have joined the bidding process for S. Kidman since April, when the Australian company offered its holdings for sale.
Local media reported that Shanghai-based Pengxin Group and Chinese agribusiness company New Hope Group could have placed bids for the Australian landholder.
Greg Campbell, chief executive officer and managing director of S. Kidman, refused to confirm the names of the short-listed bidders.
Nonetheless, the chief executive confirmed that the cattle property company was presently at the end of the second stage of the sale with final bids expected to be lodged on Oct 27.
"We expect to be able to make a public announcement on the preferred bidder by around Nov 5," Campbell told China Daily in an e-mail.
EY, the audit firm that is handling the deal, was reported as saying that the winning bid could be about A$325 million ($237 million).
"Neither S. Kidman nor the EY transaction team has set an asking price for the business," said Campbell. "The bidders will determine their own value for the S. Kidman business based on their professional due diligence."
S. Kidman is one of the largest beef producers in Australia with a herd of 185,000 cattle. The company owns 11 cattle stations, including the world's largest, Anna Creek.
The Chinese beef production industry is expected to grow only at a modest pace over the coming years. This, in turn, will widen the beef production deficit as local companies struggle to keep pace with China's robust growth in consumption of red meat.
Aurelia Britsch, a senior commodity analyst at Business Monitor International, said: "China's beef industry is still in the primary development stage and blighted by inefficiency."
Thibaud Andre, a consultant with market research agency Daxue Consulting, said: "It is obvious that China is hardly producing enough locally to ensure domestic demand. Thus, looking at foreign producers is an intuitive strategy."
However, in the past few years, the appetite for red meat has continued to accelerate thanks to new diet habits and higher disposable incomes.
China is expected to consume 7.21 million metric tons of red meat in 2015, according to Daxue Consulting. Meanwhile, research firm Business Monitor International estimated that China's beef imports will register a 12 percent growth this year from a year earlier.