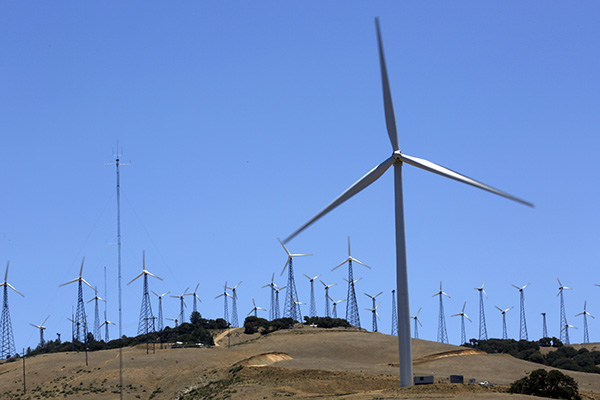 A GE wind turbine at a wind farm in Tehachapi, California, US. [Photo/Agencies]
LONDON - China's embrace of a low-carbon development model creates incentives for other countries to move in a similar direction, according to a report released Friday by the Energy and Climate Intelligence Unit (ECIU).
The report explores China's increasingly ambitious and committed approach to climate change and low-carbon development.
China plays a positive leadership role within the United Nations climate negotiations, has become the world's biggest investor in renewable energy, and has rapidly restrained and apparently reversed its growth in coal consumption, according to the report.
"The significance of China's commitment to tackling climate change and low-carbon development, particularly ahead of this December's critically important climate talks in Paris, cannot be overstated," said Lord Deben, chairman of the Committee on Climate Change, the British government's statutory advisor.
British exports of low-carbon goods and services to China already stand at an estimated 800 million pounds ($1.2 billion) per year, according to the ECIU. Experts said China's green development paradigm could offer British companies significant opportunities for expansion.
"If UK firms don't leap in here, someone else surely will, because all the signals show that China is open for business," said Richard Black, director of the ECIU.