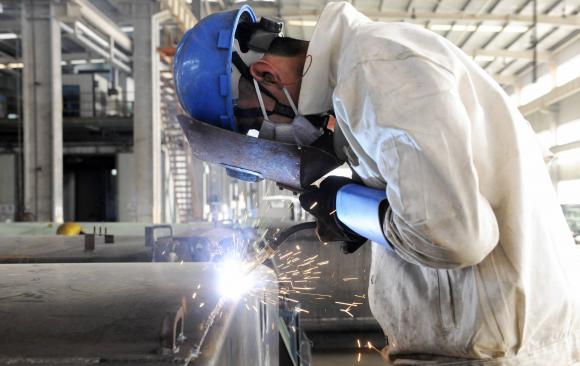 An employee welds the exterior of a vehicle along a production line at a factory in Qingdao, Shandong province Dec 1, 2014. [Photo/Agencies]
Subscription to IMF standard necessary for further economic reform and opening-up drive
China has adopted International Monetary Fund rules aimed at helping to improve the transparency, reliability and international comparability of the country's statistics.
The move, announced on Thursday, is being viewed by Beijing-based economists as a major advance.
This is because the IMF's standard-the Special Data Dissemination Standard-will result in the prompt availability of China's comprehensive statistics reports and also help the country to improve the quality of its macroeconomic policies.
With approval from the State Council, China's Cabinet, the nation's central bank chief Zhou Xiaochuan told IMF Managing Director Christine Lagarde of China's decision on Tuesday.
The National Bureau of Statistics, the People's Bank of China-the central bank-and other government departments are changing their statistical methods covering the real economy, the fiscal and financial situation, international business, and social demographics, according to a central bank statement.
This is to comply with the standard's requirement of higher quality, broader scale, higher frequency and more transparency of the data.
"The subscription to the SDDS is necessary for further economic reforms and opening-up, which will help to improve transparency, reliability and the international comparability of the statistics," the central bank said in the statement on its website.
Yi Gang, deputy governor of the People's Bank of China, said, "China and the IMF have been working together to improve China's statistics for many years, and subscribing to the SDDS is another milestone in this fruitful and important collaboration.
"We are committed to further strengthening our statistical system and enhancing transparency. This is not only crucial for our own policymaking, but also beneficial for a better understanding of the Chinese economy by the outside world," he said at the IMF-World Bank annual meetings in Lima, Peru, on Wednesday.
David Lipton, the first deputy managing director of the IMF, said: "The subscription to the SDDS underscores China's strong commitment to transparency as well as to the adoption of international best practices in statistics."
Before adopting the standard, China had participated in the IMF's General Data Dissemination System, or GDDS, since 2002. The country became the 65th economy to adopt the SDDS, which was established by the IMF in March 1996.
The Special Data Dissemination Standard identifies four dimensions for data dissemination-data coverage, regularity, and timeliness; access by the public; the integrity of the data; and data quality.
Although voluntary, a subscribing member commits to observing the standard and to providing information to the IMF about its data dissemination practices.
President Xi Jinping promised in November to switch to the SDDS when he attended the G20 Summit in Brisbane, Australia.
To comply with the new standard, China has released some data for the first time, including the official reserve assets, the full coverage of foreign debt and quarterly GDP.