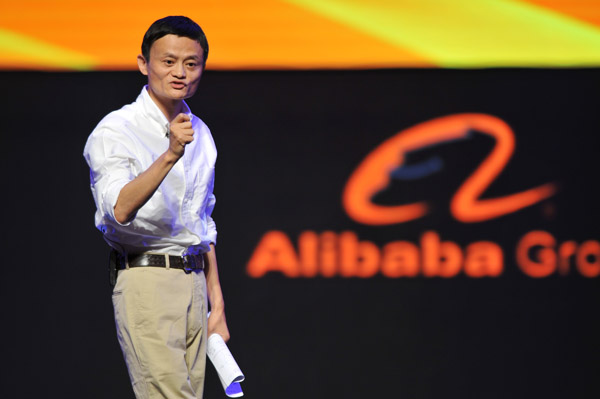 Alibaba Group Chairman Jack Ma speaking at the Global ECommerce Summit in Hangzhou in 2012. [Photo/Xinhua]
Though Alibaba Group Holding Ltd accounts for about 9 percent of the total retail volume in China, Jack Ma, its founder, said he believes that e-commerce is just the first step of what the company is eventually building.
Ma said in an open letter to shareholders on Thursday ahead of the company's first annual results that Alibaba is "building the commerce infrastructure for the future", and hence it is not right to gauge the company's performance solely on e-commerce growth.
"Around half of Alibaba's workforce and our affiliated companies, including Ant Financial and Cainiao, are working on important areas of our ecosystem, including logistics, Internet finance, big data, cloud computing, mobile Internet, advertising and the so-called double H industries-health and happiness," he said, adding the company will make globalization, rural economy as well as big data and cloud computing its top three priorities for future development.