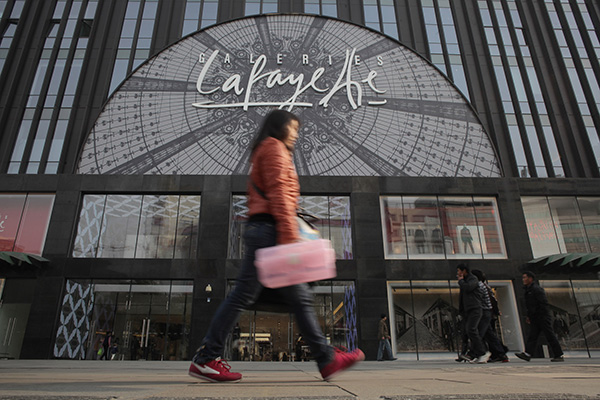 A young shopper passes by the entrance of fashionable department store Galeries Lafayette in Beijing. [Photo/China Daily]
These four factors are the key elements deciding whether the firm will bring a brand to China. Creating a unique and diversified brand mix is also key to what sets it apart from other department stores in China.
Burke found that Chinese young women prefer to shop freely and have a greater choice of brands. Therefore, Galeries Lafayette's Beijing store was designed with no walls separating the many labels on offer.
"People can experiment with different brands and shop freely in our store without being followed by sales staff," Burke said, pointing to something that clearly sets his firm's retail culture apart from those of its Chinese competitors.
And accompanying the introduction of Topshop's first outlet in China, the department store has introduced other elements, which make it stand out from the crowd.
All Chinese department stores have the same brands, the same level of service and similar cafes, but they do not have the French cafe Angelina, Burke said.
Galeries Lafayette's business model has concession brands, which the company directly buys, as well as its own labels and I.T's products.
The concession model allows it to choose brands that are not already in China or Beijing yet. For example, it can select different lines from Red Valentino, which means customers can buy items that they will not find anywhere else in the country.
This means that Galaries Lafayette can fine-tune the range of merchandise and mix of brands to suit local consumers' tastes. In addition, Galeries Lafayette constantly updates its stores and changes the brands on offer.
"You don't want another five years of a brand which everybody hates," Burke joked.
Galeries Lafayette has also discovered young Chinese designers in Paris and introduced them in Beijing, including Chi Zhang, Fiona Chen and Chictopia. The store cooperates with the Beijing Institute of Fashion Technology and showcases some of its designers' best work.
"If customers like them, they stay," Burke said. About 40 to 50 Chinese designers now work with Galeries Lafayette.