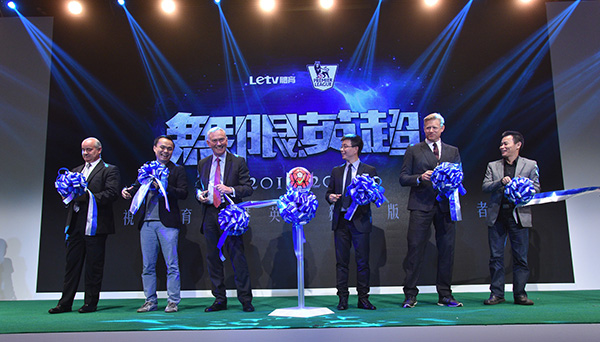 Guests cut the ribbon at the celebration ceremony of LeTV Sports Hong Kong's cooperation with Premier League in Hong Kong on September 22, 2015. [Provided to chinadaily.com.cn]
LeTV Sports announced that it won the 3-year rights to broadcast the English Premier League in Hong Kong from the 2016/2017 season at a press conference in Hong Kong on Tuesday.
The deal, which details were not discussed at the conference, reportedly amounted to $400 million.
LeTV Sports Hong Kong will replace Pacific Century CyberWorks (PCCW) to screen all 380 matches live and exclusively in Hong Kong via its various terminals, said Cheng Yizhong, the newly appointed CEO of LeTV Sports in Hong Kong.
"We will launch 4k video quality standard live broadcasting for Hong Kong football fans in the 2016/2017 season, helping users capture every detail of the match", Cheng added.
LeTV Sports Hong Kong also promises to provide commentaries in English, Cantonese and Mandarin.
"LeTV, as the new media partner of the Premier League in the Chinese mainland, saw good cooperation between the two sides in the past few years. On the basis of that, we expanded the partnership to Hong Kong," said Lei Zhenjian, CEO of LeTV Sports.
"In the future, LeTV Sports and the Premier League will bring the match broadcast to a newer, higher level," Lei added.
Mo Cuitian, LeTV's vice president and Asia Pacific executive president, stressed that LeTV Sports Hong Kong will not be the Hong Kong edition of LeTV Sports. It will create terminals, contents and products specially targeting Hong Kong users.