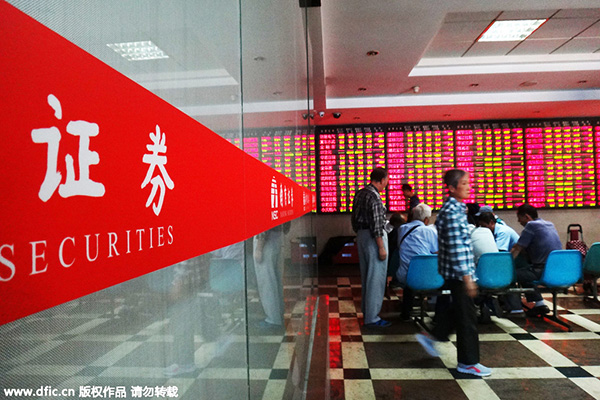 Investors look at the screen showing stock information at a brokerage in Nanjing, Jiangsu province, Sept 16, 2015. [Phohto/IC]
The securities regulator on Friday fined a slew of companies and individuals for illegal stock trading and market manipulation, underscoring Beijing's desire to clean up the country's stock market after the recent volatilities.
The China Securities Regulatory Commission fined Hengxin Asset Management Co Ltd in Shandong province 552 million yuan ($86.7 million) for manipulating trading in an exchange-traded fund that tracks the SSE 180 Index.
It is the first market manipulation case involving illegal trading of an ETF fund that the regulator has uncovered and fined, Deng Ge, the CSRC spokesman, told a news conference on Friday.
The regulator also fined four individual investors for manipulating the stock market through short sales of shares and frequent order placing and canceling to influence stock prices and to reap profits.
Meanwhile, the CSRC has completed the second round of investigation into 19 cases of illegal share sales by large shareholders of listed companies.
The largest case involved illegal sales of 7.8 percent of shares worth about 950 million yuan, according to the CSRC.
Chinese regulations stipulate that listed companies must issue public notifications for share sales above the 5 percent stake threshold. The law also forbids shareholders owning more than 5 percent stake in a listed company from selling their shares within six months of their purchase.
"The regulator will maintain a tough stance on illegal share sales by large shareholders as they hold the key responsibility for the healthy development of their companies and stability of the stock market," Deng said.
On Friday, the CSRC also fined five asset management companies and one individual for illegally operating securities brokerage business, including account opening and stock trading and settlement through third-party software systems such as the HOMS system developed by Alibaba-backed Hundsun Technologies Inc.