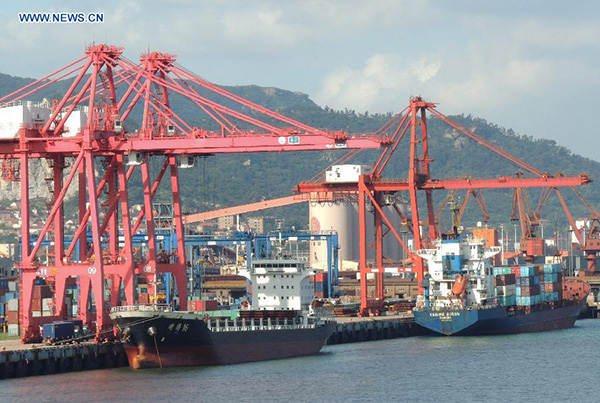 Cargo ships are loaded with containers in Lianyungang, East China's Jiangsu province, Sept 8, 2015. In the first eight months of 2015, foreign trade slipped 7.7 percent year on year to 15.67 trillion yuan, the General Administration of Customs (GAC) figures showed. Exports dipped 1.6 percent to 8.95 trillion yuan in the Jan-Aug period, while imports fell 14.6 percent to 6.72 trillion yuan. In the first eight months, trade surplus jumped 80.8 percent to 2.23 trillion yuan, according to the GAC. [Photo/Xinhua]
Although a weaker yuan would help restore the competitiveness of China's exports, Tom Orlik, chief Asia economist at Bloomberg, said that the Chinese monetary authorities will prefer to maintain the yuan's stability to prevent another sharp fall in the country's foreign exchange reserves, which fell a record $94 billion in August.
One silver lining of Tuesday's trade data is that China's exports to the United States grew by 5.9 percent and exports to member countries of the Association of Southeast Asian Nations grew by 6.1 percent.
Regionally, coastal provinces such as Guangdong, Zhejiang and Fujian maintained stable export growth in the first eight months of the year.