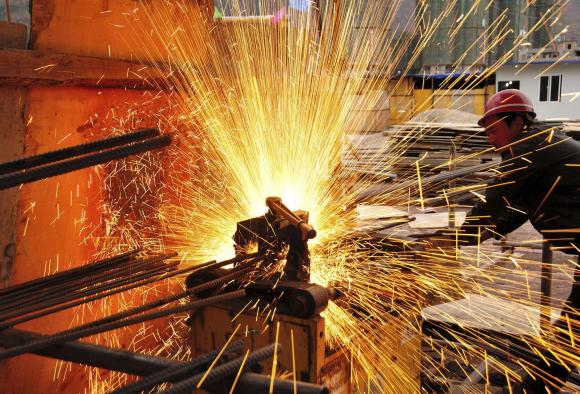 A worker welds at a construction site in Yiliang, Yunnan province, February 28, 2015.[Photo/Agencies]
BEIJING -- The Caixin flash China general manufacturing PMI plunged to a 77-month low of 47.1 in August from 47.8 in July, suggesting continued downward pressure facing the world's second largest economy, a preliminary Caixin survey showed on Friday.
A reading above 50 indicates expansion, while a reading below that represents contraction.
The sub-index on manufacturing output retreated to a 45-month low of 46.6 in August from 47.1 in July, according to a survey by Caixin Media Co Ltd.
New orders and new export orders continued to decline at a faster rate in August, and employment dropped at a faster pace than in July, said the survey.
"The Caixin Flash China General Manufacturing PMI for August has fallen further from July's two-year low, indicating that the economy is still in the process of bottoming out," said He Fan, chief economist at Caixin Insight Group.
But overall, the likelihood of systemic risk remains under control and the structure of the economy is still improving, he added.
The flash index is published on a monthly basis ahead of final PMI data, making it the earliest available indicator of manufacturing conditions in China.
The estimate is based on approximately 85 to 90 percent of total PMI survey responses from over 420 manufacturing companies each month and is designed to provide an indication of the final PMI.
He said there is still pressure on maintaining growth rates, and to realize the goal set for this year the government needs to fine-tune fiscal and monetary policies to ensure macroeconomic stability and speed up structural reform.
China's economy, a key driver of global growth, expanded 7.4 percent last year, the weakest since 1990, and has slowed further this year, growing 7 percent in each of the first two quarters.
Newly released economic indicators also fell short of market expectations, revealing that the Chinese economy still lacks momentum and downward pressure remains.
China's value-added industrial output, which measures the final value of industrial production, expanded 6 percent year on year in July, down from 6.8 percent for June, the National Bureau of Statistics (NBS) said last Wednesday.
The decline in output growth ended a steady recovery trend recorded in the second quarter of this year.
Meanwhile, China's fixed-asset investment, a major driver of growth, also witnessed slightly slower growth in July, with no sign of improvement for investment in property and infrastructure, NBS data showed.
Since November, China has reduced benchmark interest rates four times and lowered the reserve requirement ratio (RRR) three times to stimulate the economy.
A research note from Minsheng Securities also suggested that China should take more pragmatic measures to stabilize growth, including further cuts to the RRR and more targeted measures to reduce long-term interest rates.
The final PMI for August will be released on Sept 1.