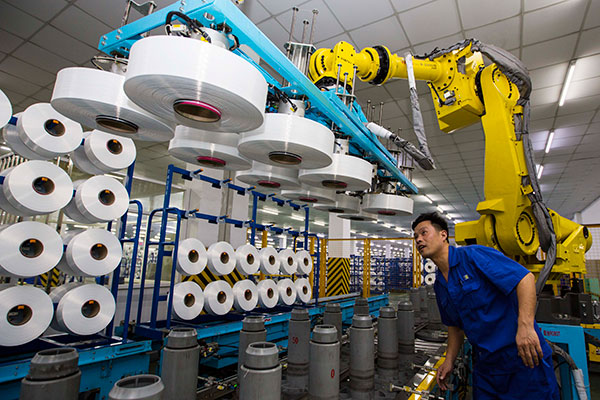 Textile products being made for export at a company in Suzhou, Jiangsu province. A recent survey predicts that manufacturing activity in July may contract the most in 15 months, driven by rising industrial deflation and dropping commodity prices. [Si Wei / for China Daily]
Flash PMI figures indicate growth in industrial deflation, sharp decline in commodity prices
A key economic survey has predicted China's July manufacturing activity to contract the most in 15 months, driven by rising industrial deflation and dropping commodity prices.
The study, conducted jointly by Caixin Media Co Ltd and Markit Ltd, suggests the foundations of the current economic recovery are still fragile and is urging for more policies to support an economic rebound.
The preliminary reading of the flash Caixin/Markit Purchasing Managers Index, or PMI, fell to 48.2 in July, the lowest since May in 2014, down from 49.4 in June.
The July figures are the first to be released since the index was renamed after the Beijing-based Caixin replaced HSBC Holdings Plc as sponsor of the gauge for five years. Markit is a London-based global, financial information and services firm.
Any PMI reading above 50 means expansion in the sector while below 50 means a contraction. The sub-index which indicates manufacturing output deteriorated to 47.3 in July, a 16-month low, down from 49.7 in June, while new orders fell to 48.1 from 50.3 in June, the lowest level in 15 months.
Chinese stocks dropped on Friday, with the benchmark Shanghai Composite Index falling 1.29 percent to 4,070.91 points. The index rose 2.3 percent over the week, after the benchmark index plunged about 30 percent in just three weeks from June 12.
The index has now rebounded 15 percent since July 8, after officials allowed more than 1,400 companies to halt trading, while banning major shareholders from selling stakes, restricting short selling and suspending initial public offerings.
Chang Jian, chief economist in China at Barclays Capital, said the weaker PMI "supports our view that the economy is not on solid footing, and we look for a flat growth profile in the second half, despite improving macro data in June".
Predicting sequential growth momentum of 7 percent in the third quarter and 6.6 percent in the fourth, Chang expects the decelerations in July output and input prices to continue to exacerbate industrial deflation in the coming months and weigh on manufacturing activity.
"Falling commodity prices are likely to discourage restocking and investment, and the leverage-driven equity boom-bust has hurt sentiment and poses downside risks to growth."
Qu Hongbin, chief economist in China at HSBC, said: "As the recovery remains tentative, further policy-easing measures are needed. We forecast another 25 basis points cut of interest rates and 200 basis points cut of reserve requirement ratios in the second half of this year."