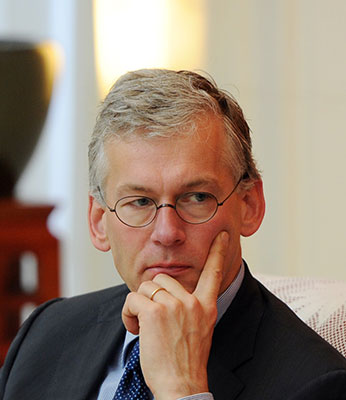 Frans van Houten, CEO of Philips NV.
"A significant 60 percent of companies said they would invest more if China allowed for greater market access," he said in an email interview.
As larger international companies leave the country, there are fears that smaller feeder firms will shut up shop as well. Again, high costs and falling demand are cited as the main reason. But it is not all gray skies for the overseas business community.
"Although there have been a small number of companies that have left China for Southeast Asia, searching for cheaper labor, we are not talking about them withdrawing from the market," Jiang Heng, a deputy researcher of Chinese Academy of International Trend and Economic Cooperation, said. "For any foreign company, China is too large to be ignored and there is still room for growth."
The EU Chamber of Commerce survey backed that up, with half the companies polled saying they were optimistic about growth prospects this year, despite a drop of 10 percentage points compared to 2014.
To deal with the new growth realities, European companies are adjusting their strategies and investing in profitable businesses.
ABB, a multinational corporation involved in robotics, and power and automation technology, and based in Switzerland, has managed to keep a lid on costs through "relentless execution".
"Targeted measures to increase productivity and simplify the organization are bearing fruit," Ulrich Spiesshofer, ABB's CEO, said. "(This has) resulted in increased customer engagement and additional cost savings."
The changing economic climate has come at a time when China was trying to diversify from its export-fueled and labor-intensive growth model toward a more value-added and comsumer-generated environment.
"Countries in Southeast Asia are attracting more investment with favorable conditions such as lower tax," Jiang said. "But many multinationals still preferred to put their regional headquarters, and development and research centers, in China.
"There is complete value chain in the country with good supporting facilities, which not many nations can compete with."