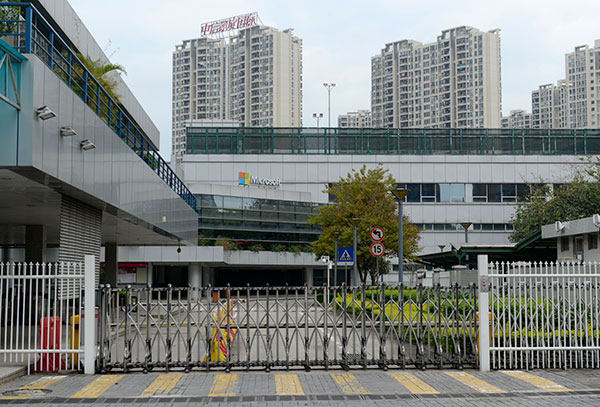 Nokia Corp, which is owned by Microsoft Corp, closed its factory in Dongguan, Guangdong province, in April. [Liu Yalai / For China Daily]
Slowing growth in China hits sales as report by the EU Chamber of Commerce shows that firms plan to cut costs
Jack Luo, a salesman at a German auto dealership in Beijing, plans to start looking for another job after four of his friends left to join other companies.
Before car sales started to stall this year, he could make at least 15,000 yuan ($2,346) a month. But now he has to rely on his basic salary of about 3,000 yuan.
Last month, new car sales dipped 2.5 percent to 1.3 million vehicles, according to the China Passenger Car Association. That was the lowest monthly level since February 2014.
Data published by another industry organization, the China Association of Automobile Manufacturers, showed car sales by its members fell 6.6 percent in July, also marking a 17-month low. The decline comes despite deep price cuts by manufacturers to woo customers back into showrooms in the world's largest car market.
"It is a tough business now," Luo, 30, and married, said. "We have to work harder to make a sale because customers are very demanding and budget-savvy."
But then, Luo is not the only one who has tightened his belt because of the economic slowdown. As international companies here report slowing demand, many employees face at least pay cuts.
A survey by the European Union Chamber of Commerce in China showed that 39 percent of EU-based companies planned to trim costs this year through lay-offs. In 2014, that number was only 24 percent.
At the same time, one-third of those companies polled revealed that they are putting investment and expansion plans on ice.
"China's economic slowdown is here, and it is already significantly impacting the performance of European business in China, which is increasingly concerned about the heightened threats that a deepening downturn will pose," the survey, based on more than 500 EU companies in China, reported.
Firms in the machinery industry have been badly affected along with the legal sector. The automotive and auto components industry, along with the chemicals and petroleum sectors as well as financial services, have also suffered, according to EU Chamber of Commerce report.
In the car industry, Volkswagen Group and General Motors Co have cut their sales forecasts this year. VW announced in its half yearly financial report that growth in China, its single largest market, has been shrinking since the beginning of this year.