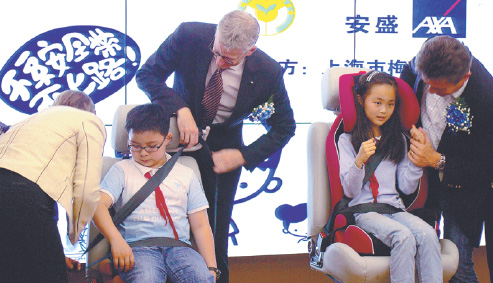 Senior executives from AXA Group help students from Meiyuan Primary School fasten their seat belts during the official launch of the "No Belt No Drive" car-safety initiative in Shanghai. [Photo/China Daily]
A new initiative has been launched to raise awareness on the use of safety belts and seats in cars.
Organizers of "No Belt No Drive" said the safety education program will tour Shanghai, Beijing and Guangzhou, from June to October.
Aimed at children and adults alike, a series of practical activities are planned at 13 primary schools in the three cities. They will feature car and traffic safety rules, and offer advice on the best equipment that can be used.
Zhao Donghua, president of the China Children and Teenagers' Foundation, which has organized the initiative in collaboration with insurance company AXA China, said the program will feature the country's only "child-safety experience classroom".
Established in 1981, CCTF is now one of China's largest charitable foundations. Since 2009, it has delivered some 60 experience classrooms across the country, which have brought safety messages to more than a million children.
Data from the Chinese Academy of Social Sciences show that one-third of primary school students travel to school by car, but more than three-quarters of cars being used by families are still without safety seats or belts.
A survey published on ChinaEduNet.com recently revealed that around 18,500 children under the age of 14 die in traffic accidents each year in China, the highest mortality rate in the world.
There are still no laws, however, forcing parents to fit safety belts or seats for children in cars. Henri de Castries, chief executive officer of AXA Group, one of the world's largest insurance companies, was joined by 100 students and their parents at the recent launch of No Belt No Drive campaign, and the use of the mobile classroom, at a primary school in Pudong, Shanghai.
Lu Hong, principal of Meiyuan or "Plum Yard" Primary School, said: "The kids are very fond of the interaction as a way of combining entertainment with teaching, and parents too like experiencing the facilities, as they can learn a lot about traffic safety."
Over the next five months, 30 communities and parks will play host to the mobile classroom.