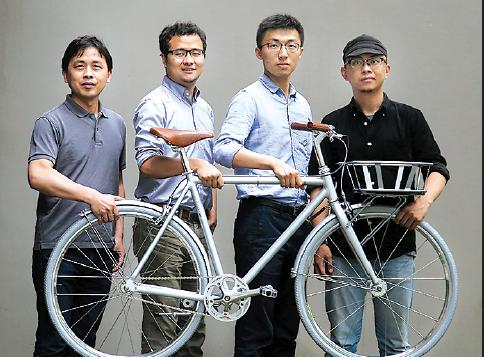 Gao Shusan (second from right), together with three of his friends, founded Wake Up bikes in 2014, aiming to create the perfect bike for commuting in megacities in China, if not over the world.[Provided to China Daily]
Gao Shusan ditched his Peugeot 3008 in April and began cycling to office, putting him among a growing contingent of health-conscious young urbanites who are changing their lifestyles to be more environmentally friendly.
Now the 31-year-old battles narrow bicycle lanes each day, much like his father and the millions of other Chinese who in recent decades helped China become known as "the bicycle kingdom" before it emerged as the world's biggest auto market in 2009.
Bikes were so closely associated with the image of the country, in fact, that when George H.W. Bush visited Beijing in 1986 in his role as the head of the US Liaison Office, he was given two of them from the central government-one for him, another for his wife.
Then as now, China is ranked as the world's No 1 producer and user of bikes, but the latter number has been plunging in recent years.
Similarly, bike lanes in cities like Shanghai have been disappearing, redesigned and recycled for cars, and are now populated mostly by deliverymen and senior citizens.
There were 370 million bicycles in use in China by the end of 2013, down 26 percent from 500 million in the early 1990s, according to estimates by the China Cycling Association. While output remains steady-1,500-plus factories produce about 80 million bikes a year-60 percent of these are now exported.
In contrast, the number of licensed drivers jumped from 100 million in 2010 to 300 million last year, data from the national statistics bureau show. Less than half own a car, however, as there are about 150 million passenger cars in China.
Gao is more than just an enthusiast, though. He wants to design a new model that will inspire his generation to get back on two wheels and enjoy the benefits of this change in lifestyle.
The postgraduate student at Shanghai Tongji University, who is majoring in architecture and urban planning, said he can draw on his academic experience to further this pursuit.
"The way we design buildings turns out to be quite different from what we were taught at school. It is usually done in a very commercial, traditional and environmentally unfriendly way," said Gao, who previously worked for a German architecture firm in Shanghai for five years.
Last year, he quit his job and made an initial investment of 200,000 yuan ($32,250) with three friends to start a bike workshop. Now his team of four full-time and two part-time staff are focused on creating the perfect bike for commuting in busy cities.
Their first models for men and women were introduced in March in a choice of two colors: black and grey. The Bauhaus-inspired bikes are mainly made of aluminum alloy while the frame design comprises straight lines at angles of 73 degrees.
They retail for 2,399 yuan ($387) including delivery, or about 1/40 the cost of a registration plate in Shanghai, which are sold via auction.