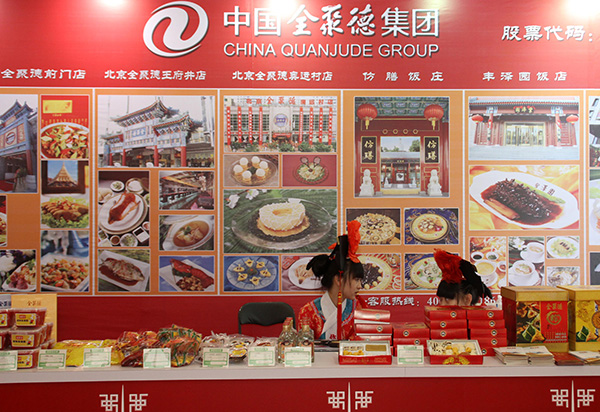 The booth of the China Quanjude (Group) Co Ltd at an international food and beverage exhibition in Beijing. The restaurant chain, famous for its roast duck, launched a series of packaged products, which have boosted its market outside Beijing and China. [Photo/China Daily]
Traditional companies with rich and colorful histories have reinvented themselves with new models and cutting-edge technology to survive
Traditional food and drinks brands are being transformed as they expand their export markets and fight off international rivals.
Companies with reputations that customers can trust are making a revival, despite fierce competition from foreign firms.
Brands with rich and colorful histories have reinvented themselves with new business models and cutting-edge technology to survive in the modern world.
Moutai, China's favorite white spirit produced by Kweichow Moutai Co Ltd, is a typ-ical success story as is the Beijing-based restaurant chain, China Quanjude (Group) Co Ltd. Confectionary company Guanshengyuan Food Ltd, from Shanghai, is another winner.
"Every success story is unique, but they were all based on prudent decision-making by their management in an ever-changing business environment," said Jiang Weihong, a researcher from the Shanghai Academy of Social Sciences.
To stay competitive, traditional brands have moved with the times and launched new products, invested in factory technology and upgraded their marketing operations.
"The stories of the big European brands teach us that it is important to develop consistently and have people at the top with international vision. This is the key to ensure that the brands stay competitive over time," Jiang said.
Last year, food and beverages sales totaled 2.61 trillion yuan ($421 billion) on the Chinese mainland, according to Wind Info, a research company that deals in data. With such a massive market, competition is fierce among traditional brands.
As China's ancient capital, Beijing has some of the oldest food and beverage companies in the country, with stellar labels produced by experienced and dedicated employees.
One such traditional conglomerate is Sanyuan Group Co Ltd, a State-owned enterprise specializing in agriculture and animal husbandry.
The company is made up of 12 State farms, 20 professional companies, 41 transnational joint-ventures, and three overseas subsidiaries. It also includes Beijing Sanyuan Foods Co, which is listed on the Shanghai Stock Exchange.
So, the next time you pick up a bottle of milk in a supermarket from a Western company, you might want to swap for one of Sanyuan's products. After all, the company has been around for nearly 60 years in Beijing.
Even during the contaminated milk scandal of 2008, dairy products from Beijing Sanyuan Foods were considered to be safe. Since then, the government has imposed tighter quality controls on the dairy industry to restore consumer confidence.