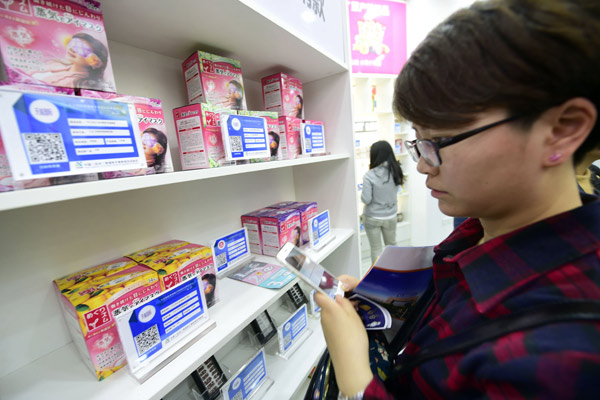 A customer chooses imported goods at a cross-border e-commerce experience center in Hangzhou, Zhejiang province, on April 17. [Photo provided to China Daily]
Look out Gucci and Prada. China's zest for Western products, which has made it the leading market for luxury goods since 2012, is moving downstream.
Michael DeSimone realized it when he and colleagues toured a warehouse loaded with items destined for China. "We expected the Michael Kors designer handbags," said DeSimone, chief executive officer of e-commerce logistics handler Borderfree Inc. "What we didn't expect were the Cosco car seats."
These days it's the prosaic - pink Barbie backpacks, California almonds, Oral-B electric toothbrushes - that Chinese click on more often when they shop American purveyors. Worried about the bona fides of what is on the shelves in a country famous for knockoffs, they are looking online to the United States for reliability and brand authenticity in ordinary consumer goods. "There's a pent-up demand for the real deal," said Krista Garcia, an EMarketer Inc retail analyst. "Not just luxury but more middle-class, mainstream American brands."
Cross-border purchases by China's Web shoppers grew from less than $2 billion in 2010 to more than $20 billion in 2014, with the US the destination of choice for clothing and personal care and baby products, according to EMarketer. It predicts China's e-commerce market, which supplanted the US as the biggest in 2013, will be twice the size in five years.
That helps explain why thousands of American brands, from Converse sneakers to Crest white strips, are popping up on digital marketplaces owned by Internet giant Alibaba Group Holding Ltd and its rival JD.com Inc, and why Macy's Inc and other US retailers are using Alibaba's Alipay third-party payment service on their own websites.
On Nov 11, known as Singles Day in China and the country's biggest shopping day, Costco Wholesale Corp's shop on Alibaba's Tmall.com rang up sales of $3.5 million, according to the Chinese Web retailer, more than what seven Costcos do on an average day in the United States.
Entering China through Tmall is "a good way for us to test and learn", said Costco Chief Financial Officer Richard Galanti, who declined to disclose sales numbers. The virtual Costco for China opened in October, stocked with about 150 items, including honey, Ziploc bags and baby wipes.
Trust in US quality controls trumps second thoughts by Chinese shoppers that they may be buying goods that were made in factories in their own country, said Patrick Hoss, chief marketing officer of Voyage One, which helps US retailers sell on Tmall. Chinese know standards are higher "than for the same products that are made to be sold directly in China".
Chen Chen, a 25-year-old who works in a Hangzhou bank, said he also likes the prices. "It was so cheap," he said after buying Costco nuts and coffee, "cheaper than food in China".
The majority of business-to-consumer online sales in China are made on Tmall and other Alibaba sites. It doesn't disclose sales data for brands or goods.
Even Amazon.com Inc is on Tmall. The Seattle-based company has eight product fulfillment centers in China but has struggled to attract shoppers, so it opened an Alibaba store, selling American products such as Remington electric shavers.
EBay Inc last week partnered with JD.com to create an online hub that resembles a US shopping mall, selling K'Nex construction toys from Hatfield, Pennsylvania, alongside strollers from Graco and Cuisinart blenders.
US stores that feared competition from counterfeits online in China learned that impostors create demand for trusted sources, said Scot Wingo, CEO of Channel Advisor Corp, which helps e-retailers navigate international logistics.
They are eager to do business in a country with 1.3 billion people. "It is the opportunity that is getting people excited and over the hump of fears about counterfeits," Wingo said.
Alibaba has had its own knockoff problems: After Chinese regulators accused it of tolerating merchants selling fakes, Chairman Jack Ma pledged to root out bogus products.
Authenticity is key for Beijing resident Wang Lingling, 46, who shuns mainland stores and buys online or in Hong Kong. She is the kind of consumer US retailers like. "The quality of food, medicine and clothes is a huge concern for me," she said, "when I shop in the local stores."