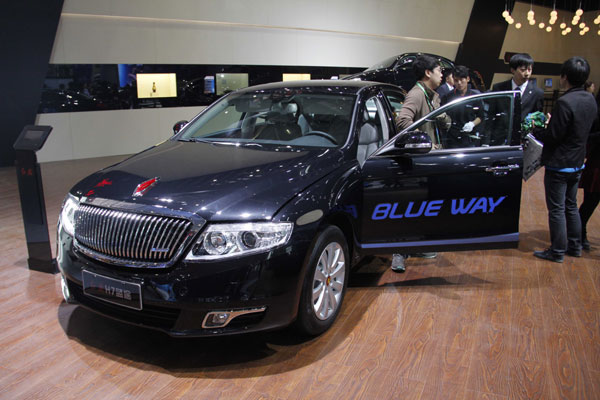 A Hongqi H7 car is on display at an auto show in Beijing. FAW Car Co Ltd, maker of the Hongqi H7 cars, has delivered more than 1,000 vehicles to the military for official use so far this month. CHINA DAILY
The removal of foreign automobile brands from the People's Liberation Army's procurement list may substantially help out Chinese vehicle producers, analysts said.
According to the PLA Daily's report on Monday, FAW Car Co Ltd has delivered more than 1,000 Hongqi H7 sedans, also known as Red Flags, to the PLA General Armament Department for official use so far this month, replacing the Audi, Passat and Santana cars made by local joint ventures with German brands.
The move followed the military's procurement of Trumpchi GA5 models, developed by GAC Motor Co Ltd, as well as the Besturn B90, made by FAW Car Co Ltd, earlier this year.
The report also said that the military department has invited only FAW Car, GAC Motor, SAIC Group, Brilliance Auto Group Co and BAIC Motor Co to bid for the official vehicles procurement.
Cheng Guhui, an official with the department, was quoted as saying that "choosing self-developed automobiles is a strict but basic standard in military vehicle reform".
Analysts said that the military's purchase of more than 1,000 Hongqi H7 sedans, which was launched last May with a price tag of from 299,800 to 479,800 yuan ($48,000-$77,000), would give a big boost to FAW's revival plans for the iconic Hongqi brand.
Company statistics showed that FAW delivered no more than 3,000 Hongqi sedans last year.
Cao He, an auto analyst with China Minzu Securities Co Ltd, said the military procurement's focus on homegrown brands will definitely benefit local automakers, especially listed ones.
"The procurement may only add a few sales, compared with the big consumer market. But the favored policy will support investor confidence," he said. "And the change clearly shows the government's determination to support domestic automakers."