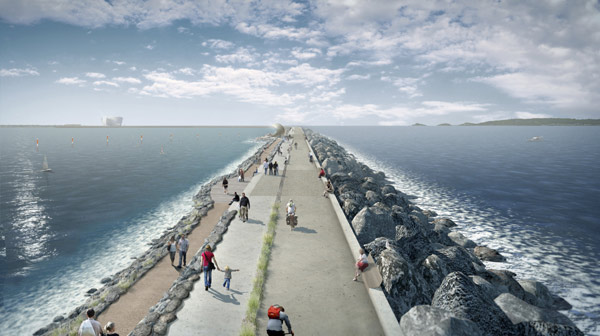 A handout image received from Tidal Lagoon Swansea Bay Plc shows a computergenerated impression of the proposed lagoon wall in Swansea Bay.[Photo provided to China Daily]
A Chinese company has been selected to help build the world's first artificial tidal lagoon in the United Kingdom, a move that is expected to bring more Chinese investment into UK's infrastructure projects.
China Harbour Engineering Company Ltd, one of the world's largest specialist marine engineering contractors and investors, has been chosen as preferred bidder by Tidal Lagoon Swansea Bay Plc for a 300 million pounds ($548 million) contract to provide marine works in building the proposed tidal power plant, which is estimated to generate power to 155,000 British families for 120 years.
CHEC will provide a marine work package that will include the construction of the 9.6 kilometer lagoon wall in Swansea Bay. Around half of the contract value is to be spent on British workforce, partners and supply chain, according to the statement released by Tidal Lagoon Swansea Bay on Wednesday.
Lin Yichong, president and chief executive officer at CHEC, said: "The scheme could bring the world a new energy option." CHEC has not invested directly into the Swansea Bay project, but the company has made a proposal to do so and will seek opportunities to invest in similar projects in the UK and Europe, said Lin.
"We will seek to grow our UK presence through significant investment into a subsidiary business and through a program of UK infrastructure investment and construction," he said.
CHEC is a subsidiary of China Communications Construction Company, a listed State-owned enterprise and one of the Global Fortune 500 companies.
Mark Shorrock, chief executive of Tidal Lagoon Power, said he has huge esteem for China's delivery capability and ability to deliver projects to time and budget." Beginning in Swansea Bay, we aim to foster a new economic opportunity for collaboration in civil engineering between our two companies and nations," he said.
Sang Baichuan, head of the Institute of International Economy with the University of International Business and Economics in Beijing, said that there will be more business opportunities from well-developed economies, such as the UK, for Chinese construction contractors due to their better design and management skills.
"When Chinese construction contractors first tested the waters in overseas markets, most of the projects they got were from developing countries or underdeveloped regions. I think we will see them get more opportunities in developed countries, especially in countries like the UK, which are seeing robust economic growth," he said.
Chinese investment is going to be a game-changer for the UK infrastructure, such as energy, real estate and transport sector. A report from international law firm Pinsent Masons in 2014 said that China is set to invest over 100 billion pounds in UK infrastructure by 2025.
"Over the past few years we have seen China's role as an investor evolve from making indirect investments through sovereign wealth funds - Chinese businesses are now becoming co-funders, co-developers and co-contractors in major UK infrastructure projects. We are already seeing this happen-for example, Beijing Construction Engineering Group making a major investment in Manchester Airport City," said Richard Laudy, head of infrastructure at Pinsent Masons.
Agence France-Presse contributed to this story.