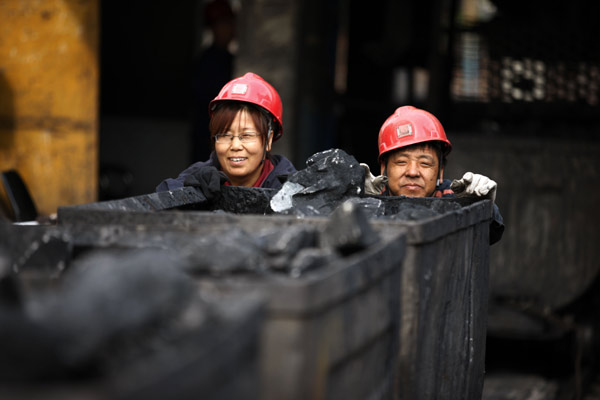 Workers at a coalmine in Huaibei, Anhui province. Some leading coal companies have decided the best way to survive from overcapacity is to diversify into other sectors. [Yan She/China Daily]
Zhang Fan, a former gauger with a coal company in south-central Hebei province's Yuanshi county, decided he needed a new job after having his salary more than halved to around 2,000 yuan ($323).
The salary cut was the result of a severe overcapacity in China's coal production, and a gloomy economy leading to shrinking industrial demand, which has left 80 percent of domestic coal companies languishing in the red.
Zhang, who declined to name his previous employer, said he used to make more than 5,000 yuan a month plus a year-end bonus based on performance.
"It is hard to live on 2,000 yuan if you have a family," he said.
"It was time to change career, just as the coal industry itself now needs drastic transformation."
Zhang said the salaries of coal miners have not been reduced to the same extent, because it is hard to recruit people with that kind of skill and experience.
However, the number of mine shafts in use has been reduced because of production suspensions and drops in output as demand remains weak and coal prices continue falling.
At the height of Yuanshi county's coal industry, there were more than 1,000 mining companies.
Now there are less than 80, says Liu Dongna, a coal analyst with Shandong-based commodities consultancy Sublime China Information Group Co Ltd.
She said many went bankrupt and the surviving firms are losing money or struggling to break even.
Hebei accounts for a quarter of China's steel output, and coking coal, one of the key components in the production of steel, was the province's main industrial product.
"The price of coking coal used to be about 1,100 yuan a metric ton in 2013, but that's dropped to less than 300 yuan," she said.
"Except for a few large coal producers such as Shenhua Group and China National Coal Group Corp, all the other coal companies are losing money."
One of the main reasons for the industry's decline is a supply glut.
According to China National Coal Association, the nation produced 850 million tons of coal in the first quarter of the year, a 3.5 percent drop year-on-year, but national coal sales declined 4.7 percent to 800 million tons.