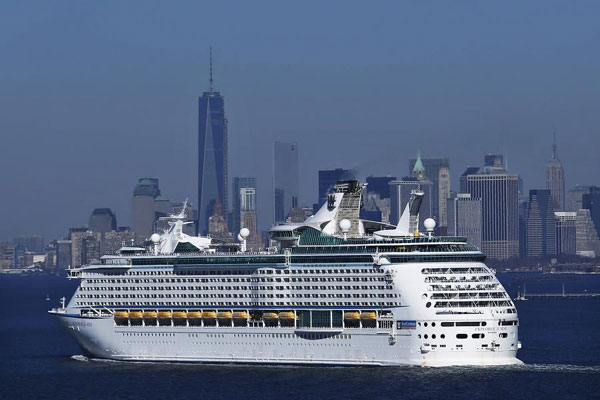 The New York skyline is seen in a distance as Royal Caribbean's Explorer of the Seas enters New York harbour Jan 29, 2014. [Photo/Agencies]
Enthusiasm for cruises is unlikely to be dampened after a ship with 458 people on board sank in the Yangtze River in Hubei province on Monday.
Major travel agencies, when contacted, said there have been no trip cancellations yet as of Tuesday.
"It is an exceptional case," said Zhou Yingfeng, product manager at China Youth Travel Service Shanghai. Zhou said the travel agency had no customers on the boat and it has not yet received any notices of cruise cancellations on the Yangtze River after the accident.
The agency has long been well-known for running cruise trips, Zhang said, adding that very few customers would board the vessel in Nanjing, Jiangsu province. Most of them would rather board the vessel in Yichang in Hubei or Chongqing where the trips start.
"We do not want to comment on the safety issues and think it is best left to the experts," he said.
Ctrip.com International Inc, the largest online travel agency in China, also said there were none of its customers on the ship, as the agency's trips are focused on other parts of the river.
Ctrip said in a statement that its ships are much larger and safer than the overturned ship, ones that are typically used on international routes.
The accident will not affect China's cruise market, which has seen rapid growth in the past few years, experts said.
"The ship that overturned on the Yangtze River can not be called a cruise ship," said Zheng Weihang, executive vice-president of the China Cruise and Yacht Industry Association.
Zheng said cruise ships usually navigate on the sea. Sometimes, cruise ships may encounter typhoons, but they still can guarantee travelers' safety.
Chinese companies operate three cruises at present and all of them are working on the nearby international routes, he said.
"The number of cruise trips made by Chinese travelers is expected to exceed 1million in 2015," Zheng said.
Beijing Utour International Travel Service Co has already booked 8,000 seats for its customers during the forthcoming summerperiod, all of them with the world's two largest operators-Costa Cruises and Royal Caribbean Cruises, said Li Mengran, manager of Utour's public relations department.
During the past eight years, cruise trips were amain product of Utour and it usually chartered cruises for its customers. The agency gave up chartered cruises this year and opted for seats on other cruises.
"It is a challenge for us to get enough resources, but we can provide more options for customers," Li said.
Cruise trips departing from local ports, including Tianjin and Shanghai, are popular in the summer time, as Chinese customers usually travel with children for the summer vacations.
Most of them choose the five-to six-day trips to Japan and South Korea, Li said.