As it enters its second month, China's maiden world cruise is helping to set the standard for mid-luxury travel among Chinese tourists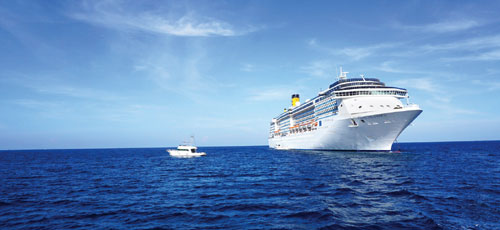 The Costa Atlantica tends to dwarf its neighbors on the high seas. [Photo provided to China Daily]
The first world cruise from China docked in New York on April 14(local time), 45 days after departing from Shanghai's Wusongkou International Cruise Terminal at the start of March.
Carrying nearly 1,000 passengers, the Costa Atlantica will spend nearly a month in the United States, home to a number of exciting destinations for these circumnavigators, before it leaves Hawaii on May 13.
The 86-day journey spans five continents and covers 28 destinations in 18 countries, including Athens, Barcelona, Rome and Los Angeles. Tickets started from 134,999 yuan ($21,800) per person.
These destinations were selected based on the wish lists of Chinese customers, according to Huang Ruiling, general manager for China of Costa Cruises Shipping Service (Shanghai) Co Ltd.
Passengers on the ongoing cruise range from an 88-year-old man to a one-year-old baby.
"Traveling around the world has long been a dream of mine, so my wife and I booked this trip immediately after seeing it advertised last June," said Hu Shizong, a 72-year-old writer from Shenyang in northern China's Liaoning province.
Hu said his most precious belonging is a 220,000-word guide that he recently compiled with some friends covering the history, culture and geography of the 28 destinations on the trip.
"I want to visit the UN headquarters in New York and take a look at the world's most famous city. I also look forward to taking a picture with the Statue of Liberty in the background," he said.
"I'm very interested in the trip to Pearl Harbor to see the relics from World War II," said Hu, who writes novels about the Chinese military.
Liu Xiaochun, a 39-year-old marketing manager from Beijing, is getting addicted to sailing on foreign seas after taking a three-day cruise from Shanghai to South Korea in 2010.
"I requested a three-month vacation to take this trip," said Liu, who works for a medical company. She is looking forward to seeing ancient Greek relics, the Aegean Sea, the Metropolitan Museum of Art in New York and the nice seaside of Hawaii.
The US is among six countries that welcomed over 1 million Chinese tourists last year, according to the China National Tourism Administration. The other five are all in Asia: South Korea, Thailand, Japan, Vietnam and Singapore.
The US Department of Commerce forecasts that China will represent its No 3 source of tourists by 2019 after its two neighbors, Canada and Mexico.