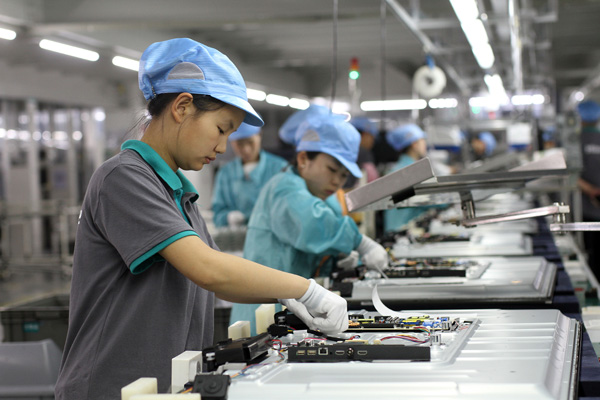 Workers at a Hisense Electronics Co Ltd assembly line in Qingdao, Shandong province. The company, China's largest TV maker by market share, is looking to beat foreign rivals such as Sony Corp and LG Corp through more investment in innovation. [Photo/Xinhua]
Hisense Electronics Co Ltd, China's largest TV maker by market share, is banking on more investments in innovation and smart factories to gain an advantage over global rivals like Sony Corp and LG Corp.
To achieve its goal, Hisense has formed an expert team comprising researchers from Japan and South Korea to update its TV technologies and also outlined huge investments for its smart factory to increase productivity.
"Advanced technology is the key to business success no matter how the market is changing," said Zhou Houjian, the company's chairman.
In 2011, many TV manufacturers from Japan and South Korea launched models of organic light-emitting diode TVs, which are thinner and lighter, posing challenges to Chinese TV makers.
Cao Jianwei, deputy general manager of the Qingdao-based TV maker, said that once the OLED technology is widely used in the TV industry, the Chinese market will be dominated by foreign competitors, leaving no room for domestic TV producers.
"We have no choice but to compete with them and upgrade our technology with better products," he said.
Hisense's years of efforts paid off this year, with breakthrough made in a new technology called ultra light-emitting diode, which features a high degree of color accuracy and wide viewing angles. It is also an environmentally friendly technology.
"ULED is better than any current technology, and its contrast ratio can reach a million-level scale while the old technology is only a thousand-level," said Cao.
For Hisense, innovation is not only something that helps the company stand out in the competition at home, but has also brought international recognition.
Its products have been sold directly to North American retailers such as HH Gregg's parent, Gregg Appliances Inc, Best Buy Co, Wal-Mart Stores Inc, Costco Wholesale Corp, and Canadian Tire Corp through online sales.
In 2014, the company's export value rose to $2.6 billion, and value of products with its own brand-Hisense-has achieved an 18-fold growth in seven years, the company said.
Despite the decline in China's exports of televisions, Hisense reaped an 18 percent growth in exports in the first two months of this year.
The company, which also produces refrigerators and air-conditioners, has sped up efforts in growth in key overseas markets including the United States and Europe.
"Currently our business growth is mainly boosted by the domestic market, but in the long run, Hisense's development lies beyond China, so we need to keep exploring the foreign market," said Zhou, the chairman.