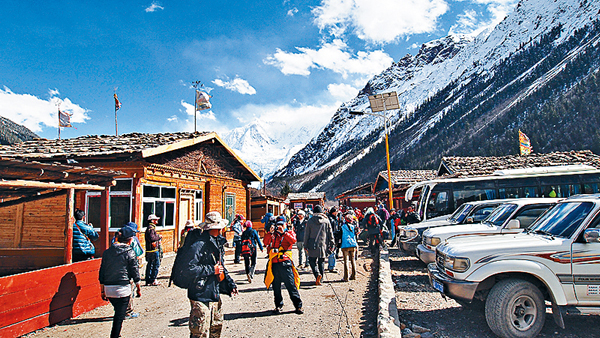 A self-driving service station in Medog county, Tibet autonomous region. With the number of cars increasing on China's roads, driving holidays are becoming more popular with Tibet being a favorite destination. [Photo/China Daily]
The trend for motoring vacations to Tibet is catching on as Chinese tourists take the scenic route
Xie Ping has just come back from a driving trip to the Tibet autonomous region and she loved every minute of it.
Along with three friends, Zhang Li, Wang Xiaoyan and Wu Cheng, she did the round trip in 10 days and it was one of the most memorable vacations of his life.
The 52-year-old retired from a State-owned company last year and was left enthralled by the stunning countryside, snow-capped mountains and glaciers.
"You cannot imagine how pure the sky and lakes could be as every scene was just like a painting or picture postcard," Xie said.
But organizing her dream trip was far from easy. In fact, it was an adventure in itself.
Xie lives in Xi'an, Shaanxi province, and she had originally planned to rent a car in Chengdu, Sichuan province, after taking the train there and then drive to Tibet.
She quickly changed her plans after a group of friends that worked at the Chengdu railway station told her to let the train take the strain.
Xie agreed and with her traveling companions, they loaded their vehicle onto the train from Xi'an to Chengdu. They paid about 3,000 yuan ($483.9) for the return tickets, which included the price for their SUV.
Even though it would have taken her party just two hours to fly from Chengdu to Lhasa in Tibet, Xie would have missed out on driving through an "incredible landscape".
"It was nothing to do with how long it took us to get there or the cost of the trip," she said. "It was all about the experience."
As she traveled the highway, Xie stopped to chat with cyclists and hikers, taking in the amazing views. "The trip made me feel young again," she added.
With the number of cars increasing on China's roads, driving holidays are becoming more popular with Tibet a favorite destination.
Statistics from the local tourism authority in the region showed that more than 15.53 million people visited Tibet last year. That was a 20 percent rise compared to 2013, while revenue from tourism exceeded 20 billion yuan.
"We do not calculate the specific number of self-driving travelers in the region," Zhong Airong, a staff member at the Nyingchi Prefecture Tourism Bureau, said. "But the number is increasing fast, with driving vacations in Tibet becoming more popular."