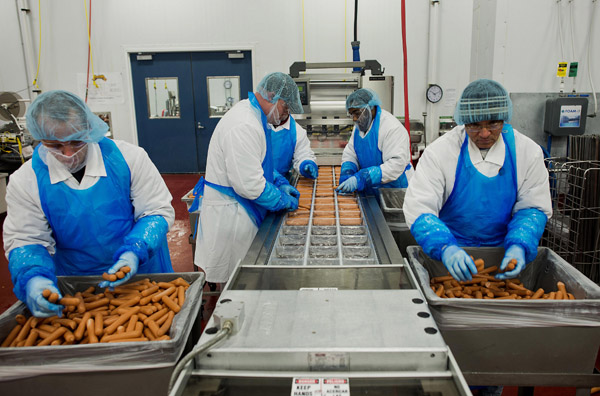 Workers pack sausages at a Smith Provisions Co production facility in Erie, Pennsylvania, US. China does not allow the import of beef products originating from the United States. [Photo/Agencies]
Going into business internationally has never been easier thanks to the evolution of e-commerce. It might be simple to set up websites, source or make products, then start taking online orders-but what happens next? Are small businesses ready for the many customs hurdles ahead?
FedEx reveals some rules and restrictions that could easily catch out some of Asia's growing number of e-commerce startups.
The Asia-Pacific region is tipped to become the leading market for e-commerce in 2015, making up just over one-third of the global total.
Much of that growth is coming from small to mid-sized businesses that can now participate and help drive global trade in ways well beyond their individual size and stature. Yet grappling with international networks, infrastructure, technology and processes can be a hazardous and time-consuming occupation if small businesses go it alone.
So also is negotiating the maze of import rules and regulations in myriad markets.
Most problems that slow down the movement of goods are regulatory-whether it is different laws or different procedures or different processing times from market to market.
As each time barriers to trade are removed or lowered, the cost of doing global business decreases. International business groups are all looking to simplify border procedures and reduce barriers to trade, including raising the de minimis value at which goods attract duty and taxes. The International Chamber of Commerce said that a global baseline de minimis value of at least $200 would generate huge economic benefits, and it has said that governments should strive for a much higher de minimis value of $1,000.
It goes without saying that shipping unlicensed weapons, hazardous material, flammable chemicals and illegal drugs is naturally prohibited around the world, but it is usually the less obvious and often downright weird items that can snare the unsuspecting small startup.
Some restrictions are purely about quarantine:
Australia has import prohibitions on meat products, as well as milk (unless it is from New Zealand), and does not allow the import of gift hampers containing fresh fruit, unpopped popcorn, or nuts.
China does not allow the import of beef and beef products originating from the United States, while Germany does not permit the import of green or black tea from China.