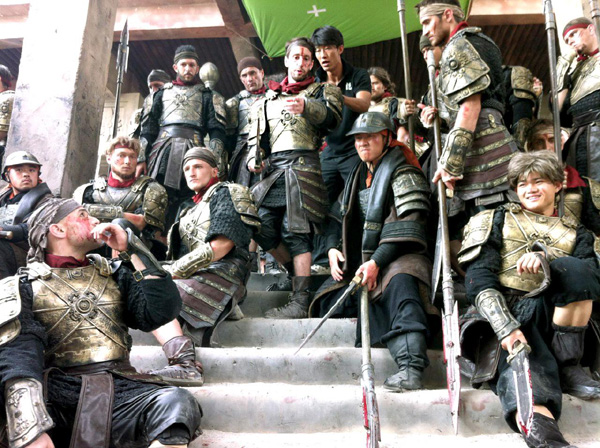 Kyle Shapiro (center) is directed by a Chinese stunt coordinator on the set of Jackie Chan's Dragon Blade last fall. [Photo/China Daily]
Canada's Kyle Shapiro is helping city slickers unleash their inner ninja warrior, while conquering their inner demons, as parkour comes to town
Kyle Shapiro has ticked a few boxes since moving to Shanghai five years ago: He has started his own business, worked on a major blockbuster with Jackie Chan, done a TV ad for Sony and set up the city's only Ninja Warrior program.
He specializes in parkour, a hyper-kinetic art that involves navigating street-side architecture in a daredevil fashion using only your body parts.
"It is about calculated risks," said the 27-year-old. "I'm not saying I wouldn't jump off a bridge or out of an airplane, just for the thrill of it, but that wouldn't be parkour."
He launched Somartics Movement Group as a full-time business in 2013. Like his business partner Martino Chen, whose chiseled physique could easily grace the cover of Men's Fitness, he is deeply plugged in to Shanghai's burgeoning parkour scene.
LINK Parkour is one of the company's three divisions. The others are KungFu Wires, which focuses on wire-flying stunts for movies and liveevent performances, and an under-development dance division, which also teaches tricking (all those cool flips and rotational twists), gymnastics, movement development and stunts.
District 13 star David Belle founded the physical art in the Parisian suburb of Lisses in 1990. He also co-authored Parkour: From the Origins to the Practice last year, when the edgy discipline began shifting from the streets to indoor gyms across the United States.
"Ego is the enemy of parkour," he said in an interview last year. "It is wellbeing. And when you feel well, you want everyone around you to feel well, too."
Like his father, Belle was inspired by the military-style obstacle course training that was popular among firefighters in France in the late 1980s. The French military had another name for it, "parcours du combattant", from whence the name parkour derives.
But French naval officer Georges Herbert, who was active in both world wars, is credited with drawing up the original blueprint after he served in Africa and adapted the tribal dance movements he saw into his "method naturelle".
It is getting more Hollywood treatment this month courtesy of independent filmmaker Daniel Benmayor. Tracers, featuring Twilight star Taylor Lautner, revolves around a New York City bike messenger who links up with a gang that uses parkour to pull off heists so he can pay off his debts to the Chinese mafia. It hit US theaters on March 20.
"Honestly, before I even learned how to, I was actually doing some parkour," Lautner told Entertainment Weekly, adding that two of his co-stars broke their ankles during filming.
"I am that weirdo that chooses the difficult route down the side of the street. I could easily just walk on the sidewalk but no, I see some obstacle and I'm like, 'Oh, I wonder what it would be like to get over that?' So, yes, I am definitely that person."
To give an idea of its broad appeal, CBS ran a series of photos last October of Palestinian boys sharpening their skills amid ruined houses in Gaza City after a seven-week Israeli offensive. Videos of young Iranian women, and old age pensioners in the US, training in parkour can easily be found on video-sharing sites.
Shanghai, given its love affair with all things Gallic, could hardly be a better place to foment interest in the sport on the mainland.
French restaurants abound; French-run Bar Rouge on the Bund riverfront is the city's most famous bar; expats drink the nights away in the former French Concession; many of the foreigners in the city wear chic neck scarves-even when it is warm.